© a super cool and creative website

NJ Cruise News is not Responsible for any changes in Date, Time, or Change of location. Please contact your local Cruise.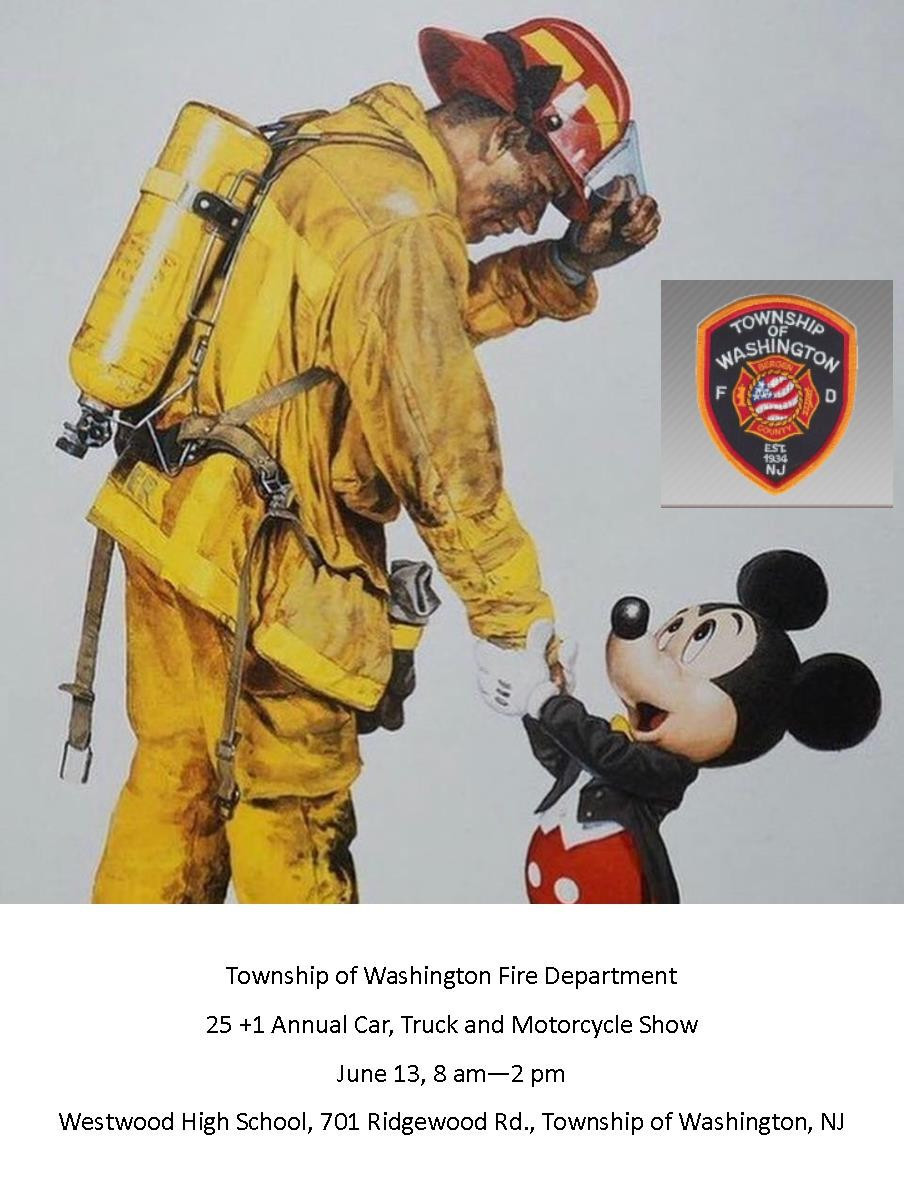 June 13
​
Twp of Washington Fire Department 25 +1 Annual Car, Truck & Motorcycle Show
Sunday, June 13th, 2021, 8 am - 2:00 pm
Westwood High School
701 Ridgewood Rd., Twp of Washington, ​NJ​

(Bergen County)​​​​

Due to COVID-19, all dates are tentative. Please contact event organizers prior to attending.
June 6
​
10th Annual Car, Truck, & Motorcycle Show
Sunday, June 6th, 2021, 10 am - 3:00 pm
Raindate: June 12th​
NV Demarest High School, Demarest, NJ
Pre-Reg: $20; Reg $25​​ DOS
Vehicle Registration opens at 8:30 am​

(Bergen County)​​​​
May 1
10th Annual Park Ridge NJ Recreation Committee
​2021 Car Show
Saturday, May 1st, 2021, ​9 am - 3 pm
Registration: 9 am - 12 pm​
Raindate: Saturday, May 8th​

Park Ridge NJ Town Pool Parking Lot
123 Colony Av., Park Ridge, NJ​

(Bergen County)​​​​
July 18
​All American Corvette Club ​Auto Show

​


July 18th, 2021​
Registration 8:30 am - 11 am (trophies by 3)
Entrants Fee $20, Spectators Free​
​​Raindate: July 25th
Kohl's Shopping Center
165 Rt. 4 West, Paramus,​ NJ


(Bergen County)​
Sept. 2 - 5
Dead Man's Curve
​Wild Hot Rod Weekend
Thursday, Sept 2nd thru
Sunday, Sept 5th, 2021​
Sheraton Mahwah Hotel
1000 International Dr., Mahwah, NJ​

(Bergen County)​
Obsessions Car Club
​Saturday Night Cruise
Beginning 4/3, 2021 5 pm - 8 pm


176 Ramapo Valley Rd., Oakland, NJ
Info: Bob (551) 497-1514​

Hun
Sept. 25
Joey's Fund Charity Classic Car Show

Saturday, Sept 25th, 2021
11 am - 4 pm​
@ St. Mary's Church
20 Legion Place, Closter, NJ​
​​​​​(Bergen County)​
Obsessions Car Club
Thursday Night Cruise
​Thursdays, 5 pm - 8:30 pm


​

​
@ Empress Diner
13-48 River Rd., Fairlawn, NJ​

​(Bergen County)​
August 15

3rd Annual Sahara Club Car Show and BBQ
Sunday, August 15th, 2021, 9 am - 3 pm (trophies)
Sahara Club
24 River Rd., Bogota, NJ​
Pre-Reg: $15, DOS $20
May 1
Saturday, May 1st, 2021, ​11 am - 3 pm
Registration: 9 am - 12 pm​

St. Joseph Regional
40 Chestnut Ridge Rd., Montvale, NJ​

(Bergen County)​​​​
July 29
​20th Annual Summer Car & Bike Show​
Thursday, July 29th, 2021, 5 pm - 8 pm
Rain Date: July 30th​
Wallington Plumbing & Heating Supply
545 N. Midland Ave., Saddle Brook, NJ​​


(Bergen County)​
June 6
​
Waldwick Community Alliance
​13th Annual Car Show​
9:30 am - 3 pm​
@ The Waldwick Railroad Station
4 Hewson Ave., Waldwick, NJ


(Bergen County)​​​​
June 5
30th Aniversary Spring Car Show
Saturday, June 5th, 2021, 10 am - 3:00 pm
​718 Route 17, Paramus, NJ
Pre-Reg: $20 - $38 with Anniversary Cap​
Must pre-register by June 1​
Info: 201 888-8727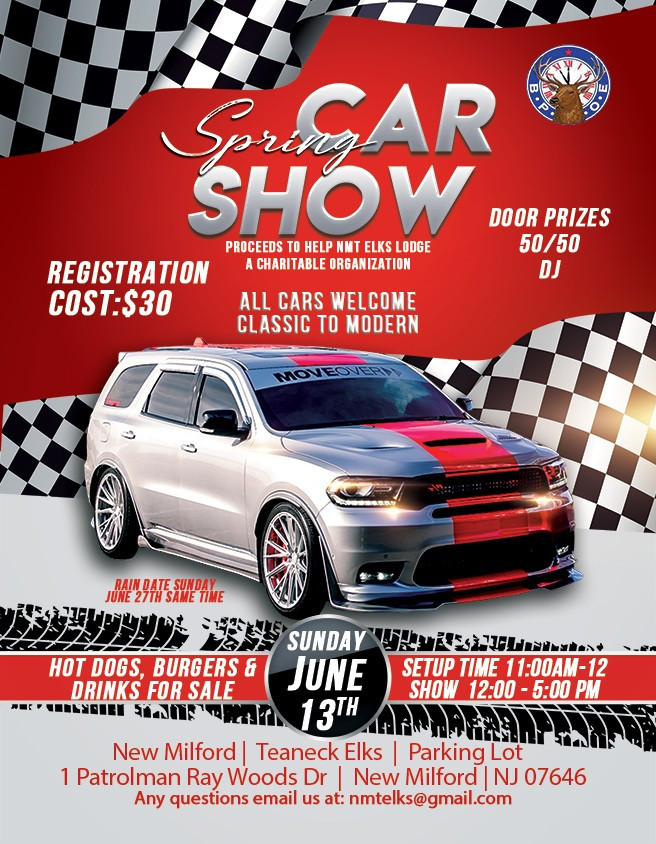 June 13
Sunday, June 13th, 2021, 12 pm - 5:00 pm
​Setup Time 11 am - 12 pm
Rain Date: June 27th​
New Milford/Teaneck Elks
1 Patrolman Ray Woods Dr., New Milford, NJ​
Registration $30.00​​

(Bergen County)​​​​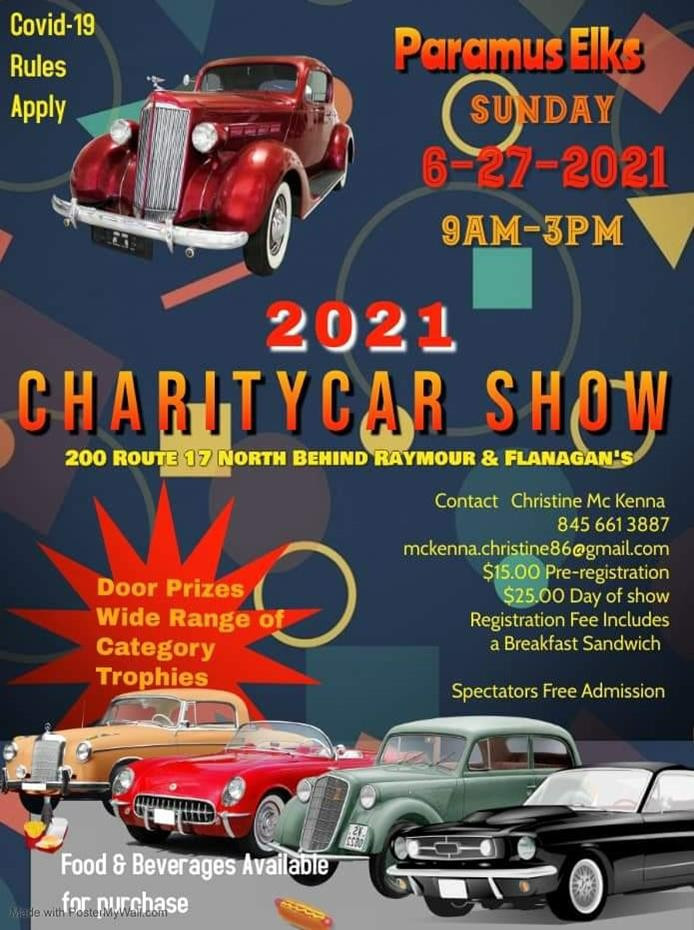 June 27
​
Paramus Elks 2021 Charity Car Show
Sunday, June 27th, 2021
9 am to 3 pm
200 Route 17 North (Behind Raymour & Flanagan's)
Paramus, NJ
Pre-reg $15/DOS $25
Mason Jar Tuesday Night
​Classic Car Cruise
Tuesdays 5:30 pm -8:30 pm
Starting June 8th

219 Ramapo Valley Rd. (Rt. 202), Mahwah, NJ
Info: 201-303-3218​

​(Bergen County)​
July 11
20th Annual River Edge Car Show
Sunday, July 11th, 2021
9 am - 3 pm​
River Dell Regional High School
55 Pyle Street, Oradell, NJ
Pre-Reg $18 (before 6/20), DOS $20​​
​​​
(Bergen County)​​​​
Sept. 26
​
Ridgefield Park P.B.A. Local 86
​7th Annual Car Show
Sunday, September 26th, 2021
8:30 am - 2:00 pm​
Rain Date: Sunday, Oct. 3rd​

100 Challenger Rd., Ridgefield Park, NJ​

(Bergen County)​​​​
June 26
Midsommer Open House and Car Show
Saturday, June 26th, 2021
10 am - 3 pm​
@ Volvo Car USA Corporate Hqs.
1800 Volvo Place, Mahwah, NJ​
(777 MacArthur Blvd.)
MUST PREREGISTER
Sept. 5
Air Cooled Nationals '21


Sunday, Sept. 5th, 2021
Sheraton Mahwah Hotel
1 International Blvd., Route 17 N
Mahwah, ​​NJ​
Info: 856 825-3047​

(Bergen County)​
Sept. 2 - 5
Thunder Alley Funny Car Frenzy


Thursday, Sept 2nd thru
Sunday, Sept 5th, 2021​
Sheraton Mahwah Hotel
1000 International Dr., Mahwah, NJ​

(Bergen County)​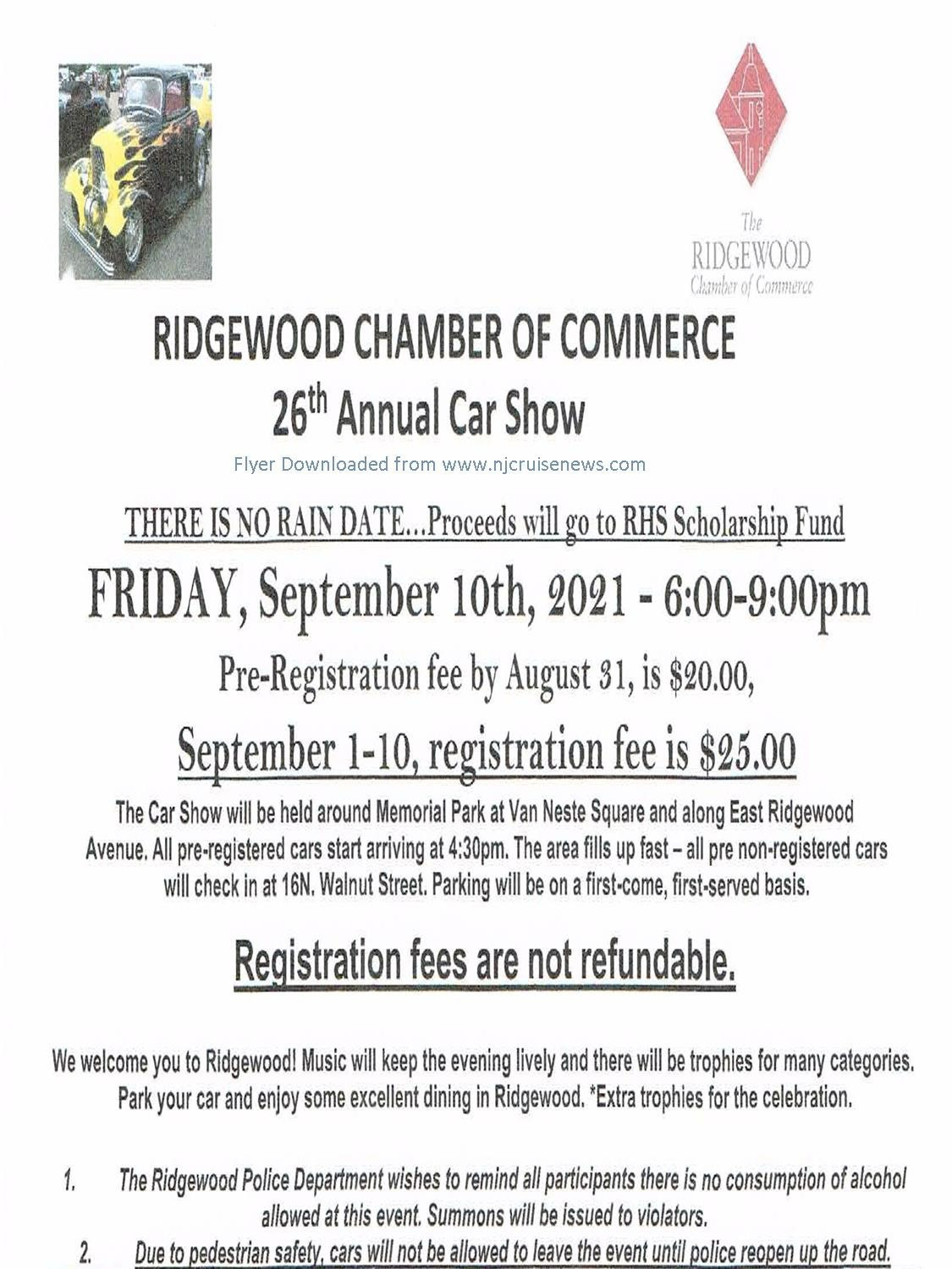 Sept. 10
Ridgewood Chamber of Commerce Annual Car Show


Friday, September 10th, 2021
6 pm - 9 pm​
Around Memorial Park in
​Downtown Ridgewood​, NJ​
Pre-reg: $20/After ​8/31 $25

(Bergen County)​
Postponed due to weather
New date -

TBD
August 22
​All American Corvette Club ​Auto Show

​


Sunday, August 22nd, 2021​
Registration 8:30 am - 11 am (trophies by 3)
Entrants Fee $20, Spectators Free​
​
Kohl's Shopping Center
165 Rt. 4 West, Paramus,​ NJ
Music by DJ "Hot Rod" Mike​


(Bergen County)​
August 28
Berkshire Hathaway Abbott Realtors
Car Show

​


Saturday, Aug 28th, 2021​,
11 pm - 3 pm
​235 Everett Ave, Wyckoff, NJ
Info: 201-891-2223​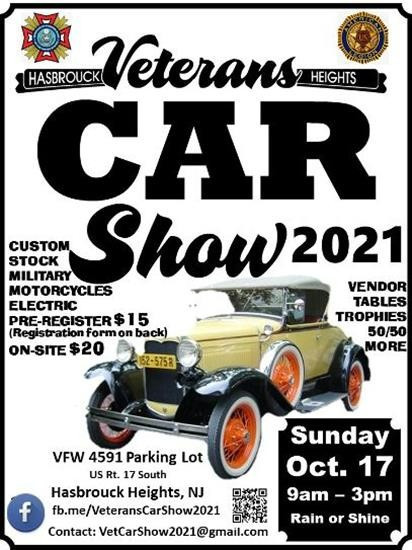 Oct. 17
Hasbrouck Heights VFW
​Veterans Car Show
​
Sunday, October 17th, 2021
9 am - 3 pm​, Rain or Shine
VFW 4591 Parking Lot
US Rt. 17 South, Hasbrouck Heights, NJ​

(Bergen County)​
Sept. 12
Washington Twp. Fire Dept.
Car & Bike Show
Sunday, September 12th, 2021,
8 am- 3 pm
Westwood High School
701 Ridgewood Rd., Twp. of Washington, NJ​
Adults $5, Children Under 12 FREE​

Sept. 26
​
American Pride in Oakland Cruise/Show
​Sunday, September 26th, 2021
11 am - 4 pm
Coppertree Plaza
350 Ramapo Valley Rd., Oakland​, NJ​

(Bergen County)​​​​
Oct. 2
Rutherford Day Car Show

​


Saturday, Oct. 2nd, 2021​​
12 pm - 4 pm
Memorial Field (Monona Ave/Darwin Ave)
Rutherford, NJ​
Registration: $20​
​
(Bergen County)​
Oct. 10
42nd Annual North Jersey Auto Show

Sunday, Oct. 10th, 2021, 8 am - 3 pm

Presented by the Restored Rusty Relics
@ Bergen Community College
400 Paramus Rd., Lot C., Paramus, NJ​
No cars newer than 1996
​Pre-Reg (before 9/22) $18/DOS $25
$5/Spectator/$10 max per carload​

(Bergen County)​
Oct. 3
All American Corvette Cllub
Auto Show
Sunday, Oct. 3rd, 2021
Reg. 8 am - 11 am, trophies by 3pm​
Kohl's, 165 Rt. 4 West, Paramus, NJ
​Entrants Fee $20.00, Spectators Free


(Bergen County)​
Oct. 3
2nd Annual Fair Lawn Fire Company #3


Sunday, Oct. 3rd, 2021​
11 am - 3 pm
Memorial Pool Parking Lot
Fair Lawn, ​​
NJ​
Pre-reg: $20/DOS $25
Info: flfdco3carshow@gmail.com​


(Bergen County)​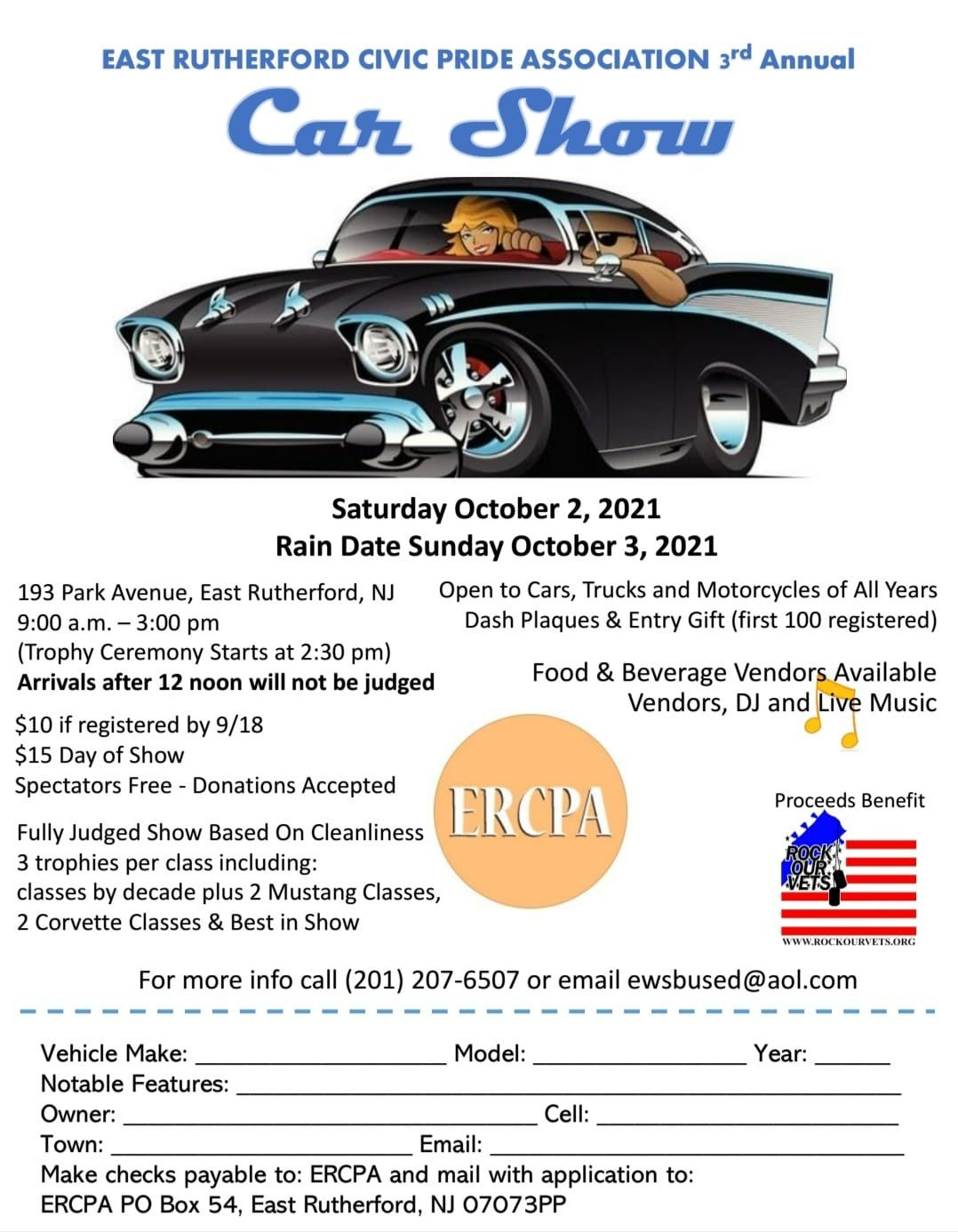 Oct. 2
East Rutherford Civic Price Association
​3rd Annual Car Show

​


Saturday, Oct. 2nd, 2021
9 am - 3 pm
193 Park Avenue East Rutherford, NJ​
Pre-reg: $10 (by 9/18)
Reg: $15 DOS​
Info: (201) 207-6507


(Bergen County)​