© a super cool and creative website

NJ Cruise News is not Responsible for any changes in Date, Time, or Change of location. Please contact your local Cruise.
Sept. 18​
Saturday, September 18th, 2021
11 am - 6 pm​
Downtown Rahway, NJ
Oct 24
​
7th Annual Car, Truck & Bike Show
October 24th, 2021, 11 am - 4 pm
Raindate: October 31st, 2021​
Aviation Plaza
601 W. Edgar Rd., Linden, NJ​
Registration $20.00​​​
Sept. 26
​11th Annual Car Show and
Motorcycle Run​

Sunday, Sept 26th, 2021
Oakridge Park, Clark, NJ
MC Reg: $20/bike, $10/passenger​​
Car Reg: $20/car
Gates open at 9:00 am​​
(Union County)​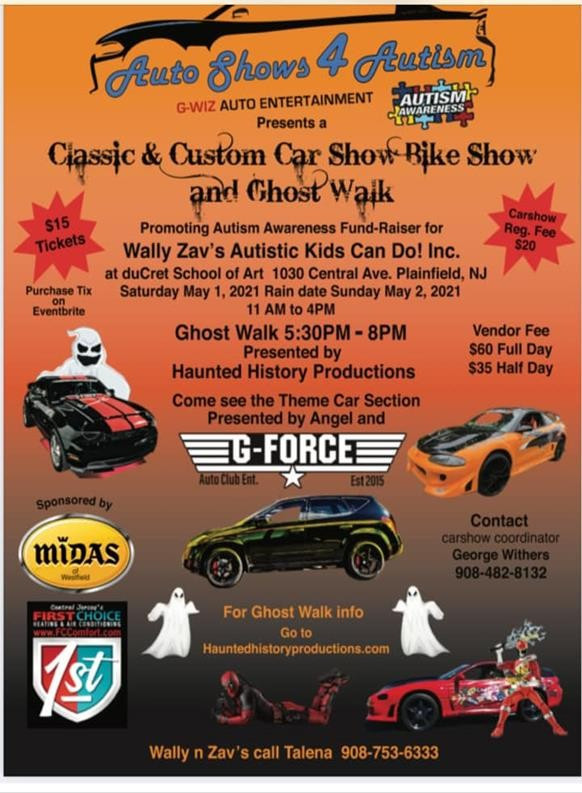 May 1
​
Auto Shows 4 Autism
Classic & Custom Car & Bike Show
and Ghost Walk​
Saturday, May 1st, 2021
Car Show: 11 am - 4 pm​
Ghost Walk: 5:30 pm - 8 pm
​Raindate: Sunday, May 2nd​

duCret School of Art
1030 Central Ave., Plainfield, NJ
​
(Union County)​​​​
​Galloping Hill Cruisers

​

​
Every Monday Night 6 pm - 9 pm

​May thru Oct
​
​ Celebrating 32 years of Cruising!!

Aviation Plaza
653 West Edgar Rd. Linden, NJ​
​
​(Union County)​
March 27
Saturday, March 27st, 2021
12 pm - ?
@ ​Detailing World
​901 Mountain Ave., Unit 3, Springfield, NJ​

​Curb Appeal Car Club Cruise Night
Every 2nd & 4th Friday, 6 pm - 9pm
​
@ Huck Finn Diner (rear lot)
2431 Morris Ave., Union, NJ​


(Union County) ​
Oct. 3
​Annual Welcome Fall Festival
​Car, Bike & Truck Show

​


Sunday, Oct. 3rd, 2021​
11 am - 6 pm

Stuyvesant/Morris Avenues, Union, NJ
June 20
​
5th Annual Father's Day Cruise​
Sunday, June 20th, 2021, 8 am - 8:30 am
Meeting at Lookers
789 Dowd Ave., Elizabeth, NJ​
Cruising to Applebee's
1323 US-22 E, Phillipsburg,​​ NJ
Ronnie (908) 966-9820​
(Union - Warren County)​​​​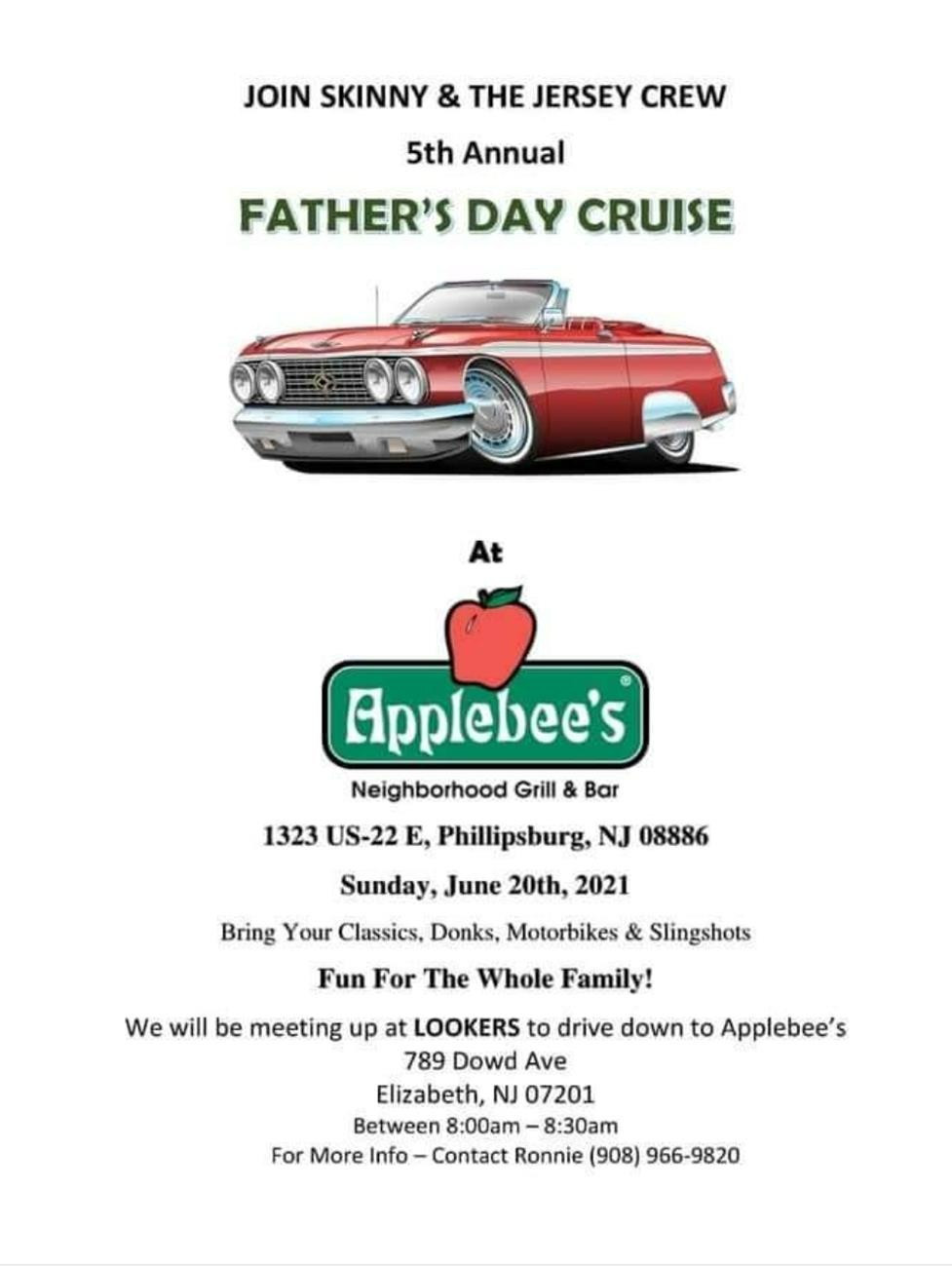 July 17
8th Annual Car Truck and Motorcycle Show

​


Saturday, July 17th, 2021​, 11 am - 4 pm
Rain Date: July 18th, 2021​
City Hall, 210 Chestnut St., Roselle, NJ​
Info: 908 482-8132​​
​
(Union County)​
August 7

NJ Retired Policemen & Firemen's Local 3 Benefit Car & Motorcycle Show
​
Saturday, Aug. 7th, 2021​, 10 am - 4 pm
33 South 21st St Parking Lot
(across from Kenilworth VFW)
​Kenilworth​, NJ
Pre-reg: $15/DOS $25​


(Union County)​
Postponed Due to Weather
New Date To Be Determined (Both Days)
Aug 14




​

Borough of Roselle 8th Annual
Car Truck and Motorcycle Sh​ow
Saturday, August 14th, 2021
11 am - 4 pm
City Hall
210 Chestnut S

treet

, Roselle, NJ​​
Info: 908-482-8132​


(Union County)​

​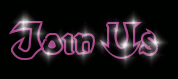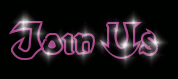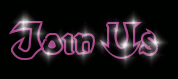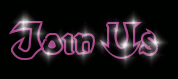 August 20

An American Classic Car Show & Biergarten Festival
Friday, Aug. 20th, 2021, 5 pm - 10 pm
Deutscher Club of Clark
787 Featherbed Ln., Clark​​
, ​NJ
Free entry with show vehicle
Spectators: $5 entry fee​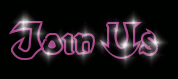 Sept. 25
​
3rd Annual Victor Guidetti Memorial Vic Fest Truck, Car & Bike Extravaganza
Saturday, September 25th, 2021
10 am - 6 pm
Raindate: September 26th, 2021​

Mt. Carmel Field Berkeley Heights, NJ
Sept. 25
​
Knights of Columbus 4th Annual
Car, Truck & Motorcycle​ Show
Saturday, Sept. 25th, 2021
10 am - 3 pm​
Rain Date: Saturday, Oct. 2nd​

Church of the Assumption Parking Lot
113 Chiego Place, Roselle Park​, NJ​

(Union County)​​​​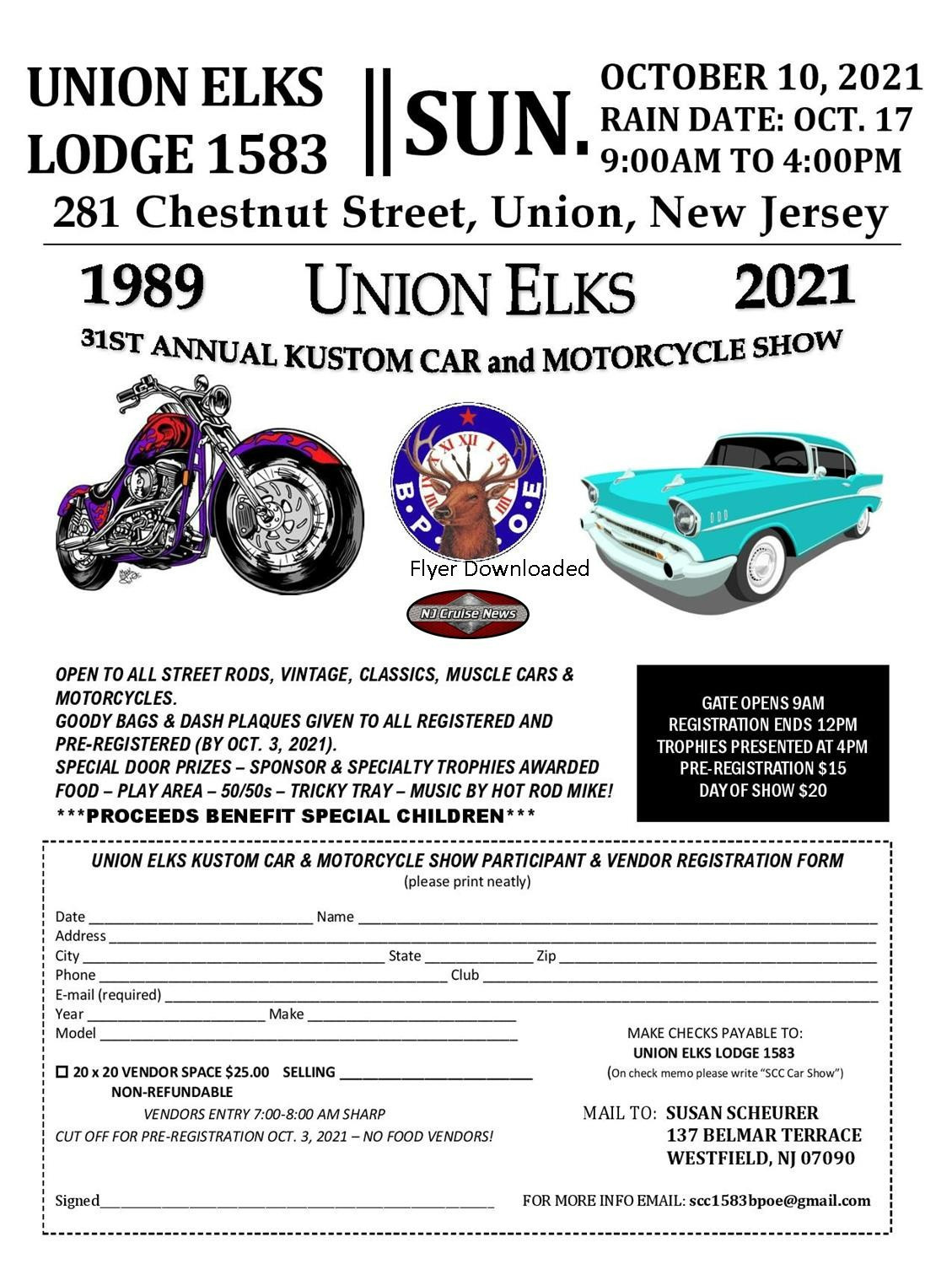 Oct. 10
31st Annual Kustom Car and Motorcycle Show
Sunday, Oct. 10th, 2021, 9 am - 4:00 pm
Rain Date: Oct. 17th​
Union Elks Lodge 1583
281 Chestnut Street, Union, NJ​
Pre-Reg $15/DOS $20
Info: scc1583bpoe@gmail.com​

(Union County)​​​​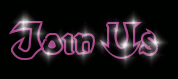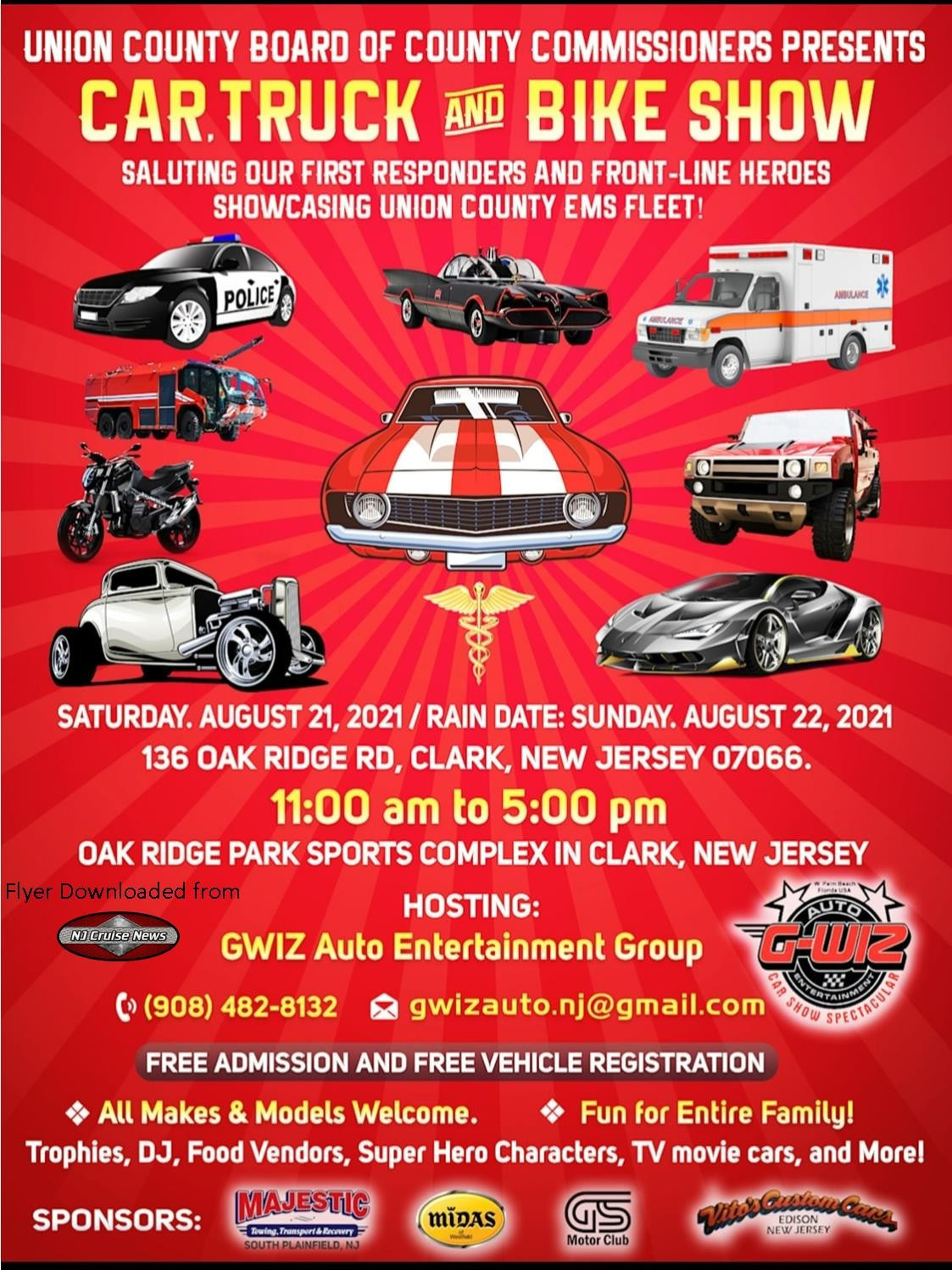 August 21

Saturday, Aug. 21st, 2021, 11 pm - 5 pm
Rain Date: Sunday, Aug. 22nd​

Oak Ridge Park Sports Complex
136 Oak Ridge Rd., Clark, NJ​

(Union County)​
Sept. 11
Fanwood 4th Annual Classic Car Show
Saturday, September 11th, 2021, 10 am- 4pm
La Grande Park, Fanwood, NJ
Registration begins at 8 am
Reg: $10 DOS
Info: "Hot Rod" Mike (908) 337-8050​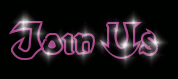 Sept 19


7th Garwood (Still) Rocks Car Show​


​Sunday, Sept. 19th, 2021
10 am - 4 pm
Center St., Garwood, NJ
Reg: $20 DOS
Info: "Hot Rod" Mike (908) 337-8050


(Union County)​
​​​
​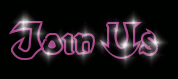 Sept. 19
P.A.L. Classic Car Show


Arts & Cars Summit Arts Festival​

Saturday, Sept 25th, 2021
10 am - 5 pm​
Downtown Summit, NJ​
​​​​​(Union County)​