© a super cool and creative website

NJCruise News is not Responsible for any changes in Date, Time, or Change of location. Please contact your local Cruise.
May 30
Capital City Car Show on the Waterfront
Saturday May 30, 2020 (raindate May 31st)

10 am - 2 pm

Arm & Hammer Park
1 Thunder Road, Trenton, NJ
All Are Welcome!​
July 18th - 19th
6th Annual Dubs in the Shrubs
​

Car Show and Swap Meet​
Saturday, July 18th 2020, gates open at 3 pm

​
Sunday, July 19th, 2020, 9 am til 3 pm​
German-American Society

215 Uncle Petes Rd., Trenton, NJ


(Mercer County)​
June 7

​
Route 130 Chrysler Dodge Jeep Ram Car Show
Sunday June 7th, 2020
(Rain Date - June 14, 2020)
​9:00 am till 2:00 pm​

Registration $10.00​

​1153 US Highway 130, Trenton, (Robbinsvile), NJ
​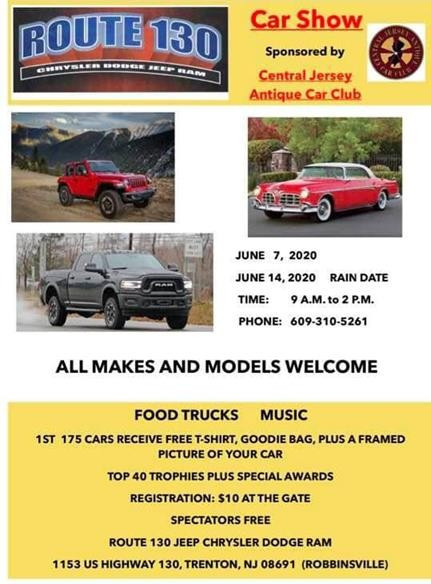 July 11th
16th Annual Euro-American Auto & Motorcycle Show
Saturday July 11th, 2020 (raindate July 12)
10 am - 3 pm (reg. until 12 pm)
German-American Picnic Grove

215 Uncle Pete's Road, Yardville, NJ​
​$20.00 car $10.00 Motorcycle


(Mercer County)​