© a super cool and creative website

May 17
Sons of the American Legion
4th Annual Car & Bike Show
Sunday, May 17th, 2020
10am - 2pm​

​Registration $15.00 DOS
17 Calvin Place, Metuchen, NJ


(Middlesex County)​​​​
May 24
Memorial Day Car Show
East Brunswick VFW Post 133​
Sunday, May 24th, 2020
10am - 3pm (Rain date May 31st,))​
485 Cranbury Rd,
​East Brunswick NJ​​


(Middlesex County)​​​​
NJ Cruise News is not Responsible for any changes in Date, Time, or Change of location. Please contact your local Cruise.
May 31
Corvette Show
American Legion (8 am - 3 pm)
Sunday, May 31st, 2020
Spirit's of '53 Corvette Club
Washington Ave, & J.F.Kennedy Dr
Milltown, NJ


(Middlesex County)​​​​
Raritan Bay Cruisers
​​Every Tuesday Night ​6 pm – 9 pm

May 4th thru Oct 5th, 2020​


320 Route 9 North, Woodbridge NJ

Good Food, Good Friends, Cool Cars
You won't be disappointed.


​(Middlesex County)​
Street Dreams Cruise Night
​Every Monday Night ​6pm – 9pm

April 5th thru Oct 25th, 2020​
​
Middlesex Texas Weiners

1355 Bound Brook Rd.

Middlesex. NJ​​
Good Food, Good Friends, Cool Cars
You won't be disappointed.


​(Middlesex County)​
April 26
NB PBA 160 Cops & Rodders

​Car Show @
Devry University​
Sunday April 26, 2020 (rain date May 3rd)
9:00 am - 3:00 pm
Pre-registration $18.00 DOS $20.00

​630 US Hwy One North, North Brunswick
All Vehicles Welcome​


(Middlesex County)​
May 30

Monroe Township Classic Car

Saturday May 30, 2020

10 am - 2 pm (registration 8 am - 10 am)

Pre-Registration $10.00, DOS $15.00​
Monroe Senior Center
12 Halsey Reed Rd., Monroe Twp., NJ


(Middlesex County)​​​​
April 26
Spring Invasion Car Truck & Bike Show
Boogie Enterprizez Presents
​Sunday April 26, 2020

10:00 am till 5:00 pm​
31 Reid St. South River NJ
Registrtion $25

Open to All Makes & Models​


(Middlesex County)​
July 25th
The Car Truck & Bike Show
Friday July 24th, 2020 5pm-9pm

Saturday July 25th, 2020 12pm-4pm​

Rain date Sunday, July 26th​
Hadley Rd & Cragwood Rd, South Plainfield, NJ
​$15.00 pre-registration $20.00 DOS


(Middlesex County)​
April 19
Spring Into Action Car, Truck, and Motorcycle Show
Sunday April 19th (Raindate May 3rd)

​Veteran's Memorial Park,
327 Elm Street (Off Hamilton Blvd.,) South Plainfield, NJ​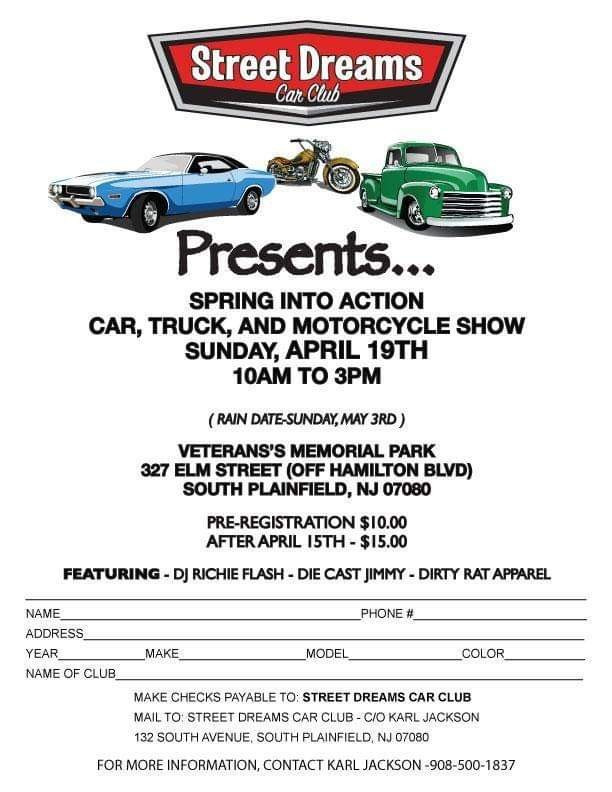 The Shoppes at Old Bridge
​1st Friday of the month 5:30 pm - 9 pm

beginning May 1, 2020​

(rain date 2nd Friday of the month)​

​


@ the Shoppes at Old Bridge
3777 Rt. 9 & Texas Rd., Old Bridge, NJ

Hun
August 9
The 11thAnnual Metuchen Rescue Squad Benefit Car, Truck & Motorcycle Show
Sunday August 9th, 2020, 10 am - 3pm

(Raindate August 16)​
Metuchen High School, 400 Grove Ave., Metuchen, NJ


(Middlesex County)​
May 9
Spring Mayhem Show


Saturday, May 9th, 2020

2:00 pm - 8:00 pm

2245 US Highway 130, Dayton, NJ​​


(Middlesex County)​
July 11th
New Jersey 2020 Trans Am-All Pontiac Run
Meet 1 pm @
McD​
onalds, 1075 Rt 1 South, Edison, NJ
Leaving no later than 2 pm​
Destination is Flemington NJ Cruise Night

Open to all years Pontiacs​


(Middlesex County)​
Garvey's Cruise Night
​Tuesdays 5:00 pm –8:00 pm

May - October
​
@ Garvey's Family Restaurant & Pub

405 Spotswood Gravel Hll Rd, Monroe, NJ​
Good Food, Good Friends, Cool Cars


​(Middlesex County)​
May 31

Piscataway High School Car, Truck & Bike Festival
Sunday, May 31st, 2020

(Rain Date: Sunday, June 14th)​

10:00 am - 4:00 pm​
Piscataway High School
100Behmer Rd., Piscataway Twp., NJ


(Middlesex County)​​​​
August 30
American Legion Post 65 Car & Bike Show
Sunday, August 30th, 2020

American Legion Post 65, 17 Calvin Pl, Metuchen, NJ