© a super cool and creative website

Begining ( May 13th 6pm - 9pm)

​​Galloping Hill Cruisers


(Union County)

​
Galloping Hill Inn & Caterers
325 Chestnut St, Union, NJ
(Know as the Five Points)​
Great Food, Hot Dogs, Burgers, & More
DJ & Trophies, Doorprizes & Raffle.​
More Info...​ Map..
http://gallopinghillcruisers.com
All Cruises are WEATHER ​​PERMITTING!!
NJ Cruise News is not Responsible for any changes in Date, Time, or Change of location. Please contact your local Cruise.
​​​​​Monday's ( May 7th 6:30 - 9:30 )


Classic Cruisers of North Jersey
(Bergen County)​
Advanced Auto Parts
427 Market St.
Saddlebrook, NJ.
​Enjoy Great Food,
Pizza, Ice Cream & more.
Trophies/Plaques & Raffel​​​​​​​
Music of the 50's, 60's, 70's​
​Like Us on FACEBOOK:
​@ classiccruisersofnj
​E-mail: classiccruisersnj@yahoo.com
​​First Monday Each Month
(May 7th til Oct.)​
6pm - 9pm​
​MR. CUPCAKES CRUISE NIGHT
(Bergen County)​
​375 West Passaic Street,
​Rochelle Park, NJ.
​Trophies, Door prizes &
​Amazing​ cupcakes.
​All proceeds to benefit
​Colon Cancer Alliance,
​In memory of Maria Manganiotis.
​For more information visit: www.mrcupcakescruisenight.com
Galloping Hill Cruisers

​

​
Every Monday Night 6 pm - 9 pm

​May 10 thru Oct 18
​
​ Celebrating 32 years of Cruising!!

Aviation Plaza
653 West Edgar Rd. Linden, NJ​
300 ++ cars each Monday
Trophies * DJ "Hot Rod" Mike
Giveaways * Food Discounts
Good Food, Good Friends, Cool Cars
​
​(Union County)​
Cruise Night @ Mighty Joe's
​Every Mon, all year round
​4pm – 9pm
​
Mighty Joe's Gas Grill & Deli,
1231 US-206, Shamong, NJ 08088,
Good Food, Good Friends, Cool Cars
You won't be disappointed.


​(Burlington County)​

The Blacktop Villains Cruise Nights

​

​
Every 2nd & 4th Monday Night 6 pm
​
April​ thru Nov

​
​
Dave & Buster's
Gloucester PremiumOutlets
​ 200 Premium Outlets Drive
Blackwood, NJ​​

July 26th and November 22nd Collecting for Toys for Tots

Collecting Non-Perishable Food Items at Each Cruise Night​​​
​
​(Gloucester County)​
Street Dreams Cruise Nights
​Every Monday, 5pm - 8pm
April 12th - October 25th
​​
@ Middlesex Texas Weiner
1355 Bound Brook Rd., MIddlesex, NJ​
No cruise Memorial Day or Labor Day​


​(Middlesex County)​
Cruise Night @ JB's on 33
April - September
​5pm – 8pm
​
JB's on 33
1320 NJ-33, Farmingdale, NJ
Cruisers 10% off

​
(Monmouth County)​
Don & Bert's Car Cruise Nights
Every 1st and 3rd Monday, 6:30 pm
​weather permitting
​
@ Don & Bert's
635 W. Broad St., Paulsboro, NJ​
Come for the Cars and Cold Treats, Stay for the Friends and Family.

​
(Gloucester County)​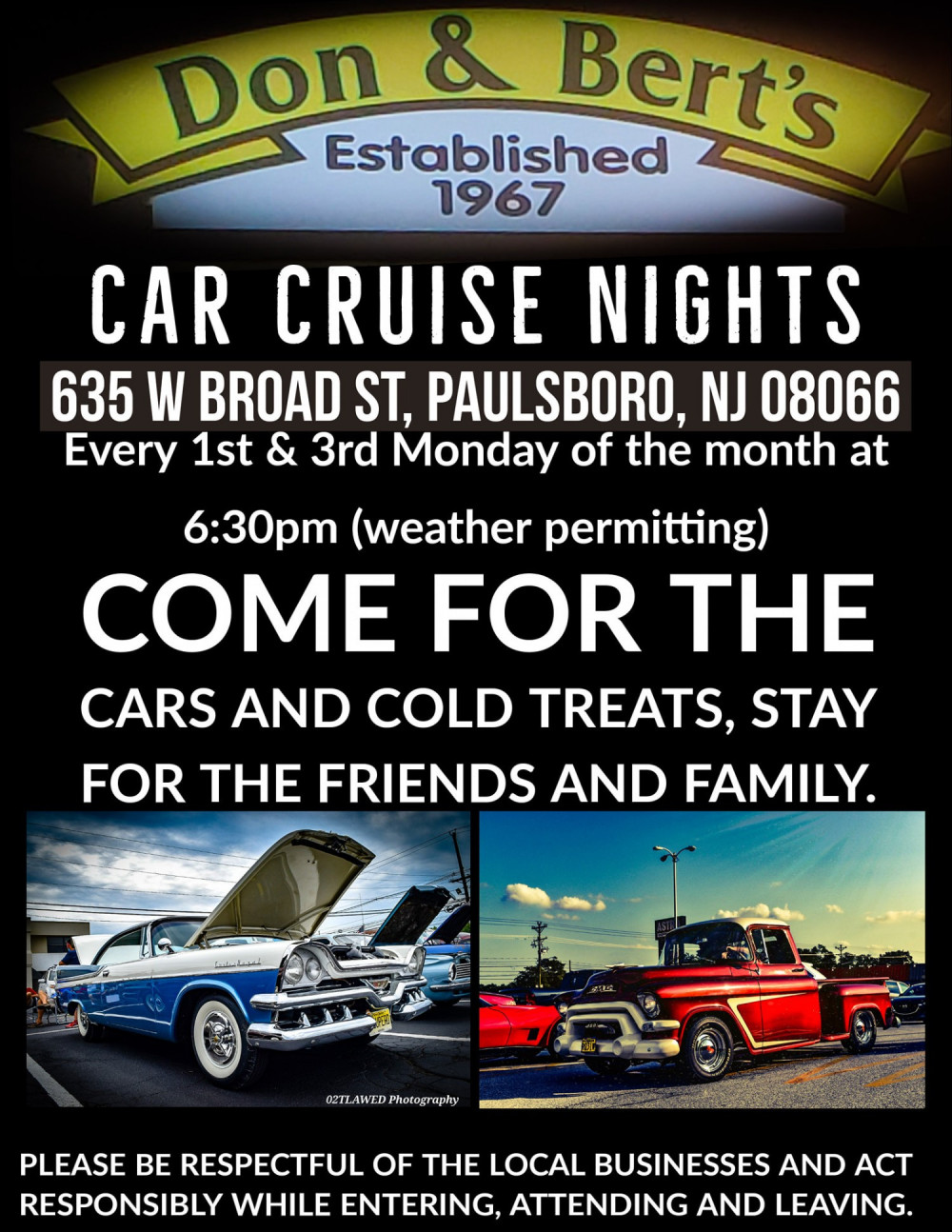 Empire Diner 2021 Cruise Schedule
First Monday of Each Month
​6/7, 7/5, 8/2, 9/6, 10/4
​5pm – 8pm
​
Empire Diner
297 Crescent Blvd., Brooklawn, NJ
(Brooklawn Circle)

​
(Camden County)​
New Monmouth Diner Monday Cruise Nights
2nd & 4th Monday of Each Month
6 pm - 9 pm
​
New Monmouth Diner
1887 Rt-35, Middletown Twp., NJ
Info: 732-671-1316​​
​
(Monmouth County)​
Cruisin' Fords Cruise Nights
June 7, Aug. 2 & Nov. 1, 2021
5 pm - 8 pm
​
Siperstein's Parking Lot
372 New Brunswick Ave., Fords, NJ​
​
(Middlesex County)​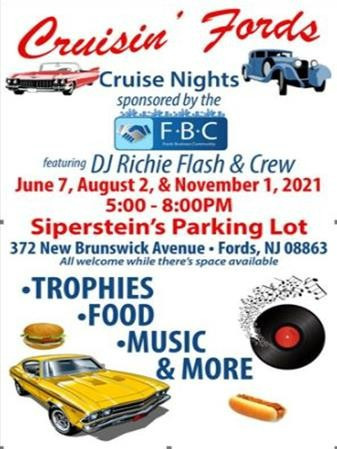 GSMC Cruise Nights
Every Monday
August 2nd to October 4th
6:30 pm – 8:30 pm
​
Sear House Grill
1 NJ-23, Little Falls, NJ
​
(Passaic County)​



​​​Currently Updating
Check Back Weekly for Updates