© a super cool and creative website

May 9th
Modern Muscle Car Invasion
Saturday, May 9th, 2020
Ocean City Boardwalk, New Jersey
11am - 6pm​​​


(Cape May County)​
NJCruise News is not Responsible for any changes in Date, Time, or Change of location. Please contact your local Cruise.
Sept. 13th
​
"A Day at the Beach" Woodstock Style
​
Saturday, September 13​
, 2020
​(Rain or Shine)

(Check in 8 am - 10 am)
Ocean City Airport, 26th and Bay Ave.
​$25.00 pre-registration only


(Cape May County)​
May 8th and 9th
Wildwood Spring Boardwalk


Saturday, May 9th, 2020
Displayed 10 am - 3pm both days
All makes and models welcome at least 10 years or older


(Cape May County)​
Sept. 12th
​
46th Annual Classic Car and Street Rod Show
Saturday, September 12th, 2020

Display 8 am - 4 pm​

On the Boardwalk, Ocean City, NJ

Open to 1990 and Older Classic Cars or Street Rods​
June 27th
​2020 Ocean City Antique & Classic Automobile Show & Parade


June 27, 2020, 9 am—2 pm

Presented by the Jersey Cape Region

Antique Autombile Club of America​​
Ocean City Tabernacle
550 Wesley Avenue, Ocean City, NJ
June 20th

​
The Shores at Wesley Manor
Saturday June 20, 2020

​9:00 am til 1:00 pm

2201 Bay Avenue, Ocean City,​
NJ

Presented by the Jersey Cape Region AACA​
July 9 - 11, 2021

Saturday June 26th - 28th, 2020


Wildwood Beach at Rio Grande Avenue

July 11th
Burke VIRTUAL Car, Truck & Cycle Show

​
Saturday July 11th, 2020
519 Stone Harbor Blvd., Cape May Court House
Vehicles MUST register in advance online @
BurkeMotorGroup.com​
Sept. 24th - 27th
​
Wildwood's Annual Boardwalk Car Show
​Thursday, Sept. 24th - Sunday Sept. 27th 2020
12 pm (Thurs) - 11 am (Sun)
Wildwood Boardwalk
3720 Boardwalk, Wildwood, NJ
July 25th


​Historic Cold Spring Village Car Show

Saturday, July 25th, 2020,
​10am—3pm
Historic Cold Spring Village
Presented by Jersey Cape Region AACA


(Cape May County)​
August 8
Avalon Campground Antique Auto Show
​10 am—2 pm
1917 Route 9 North
Clermont NJ 08210
Presented by Jersey Cape Region, AACA


(Cape May County)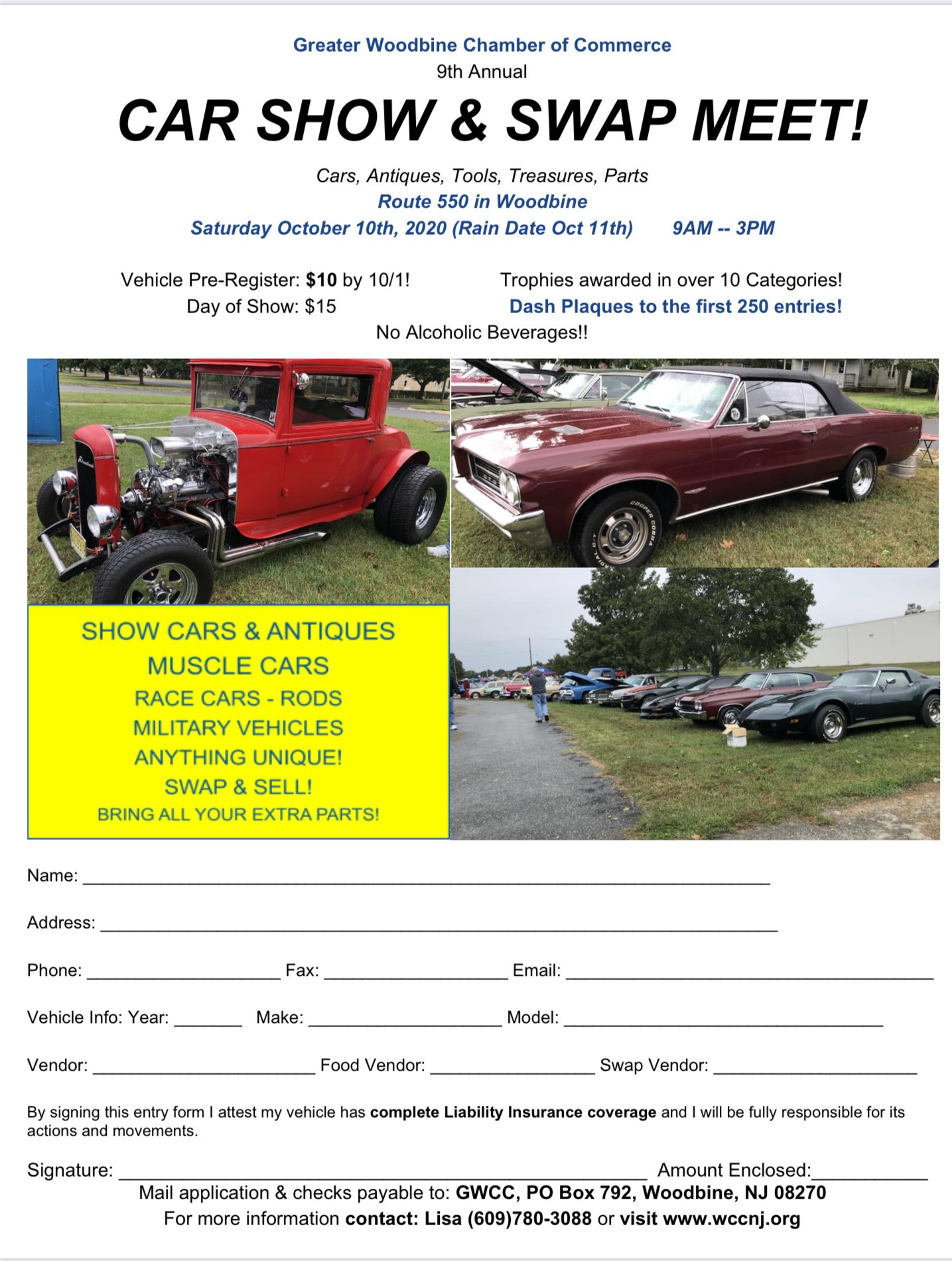 Oct. 10
​Greater Woodbine Chamber of Commerce 9th Annual Car Show & Swap Meet
Saturday, October 10th, 2020
​
(Rain date: October 11th)​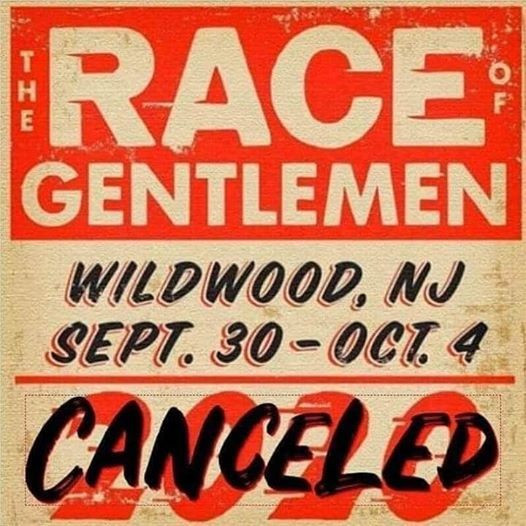 Sept. 30th
The Race of Gentlemen (T.R.O.G.)​
September 30th - October 4th


(Cape May County)​
July 14-16




NJ Jeep Invasion 10th Anniversary


Friday, July 14th -
​Sunday, July 16th, 2023
On the Beach
Wildwood, NJ​Main


(Cape May County)​
​​​​

May 12 - 14
Spring Wildwood Car and Truck Show
Fri., May 12th - Sun., May 14th, 2023
Rain or Shine​
Cars 10 years or older​
Downtown Wildwood, NJ

Pre-Reg: $40-$47.50
Info: (609) 778-7887

(Cape May County)​
​​​​
May 12-14
1st Annual Bronco Invasion
Friday, May 12 - Sunday, May 14, 2023
Saturday on the Boardwalk 9 am - 5 pm, Ocean City,​​ NJ​​

Info: www.broncoinvasion.com

(Cape May County)​
​​​​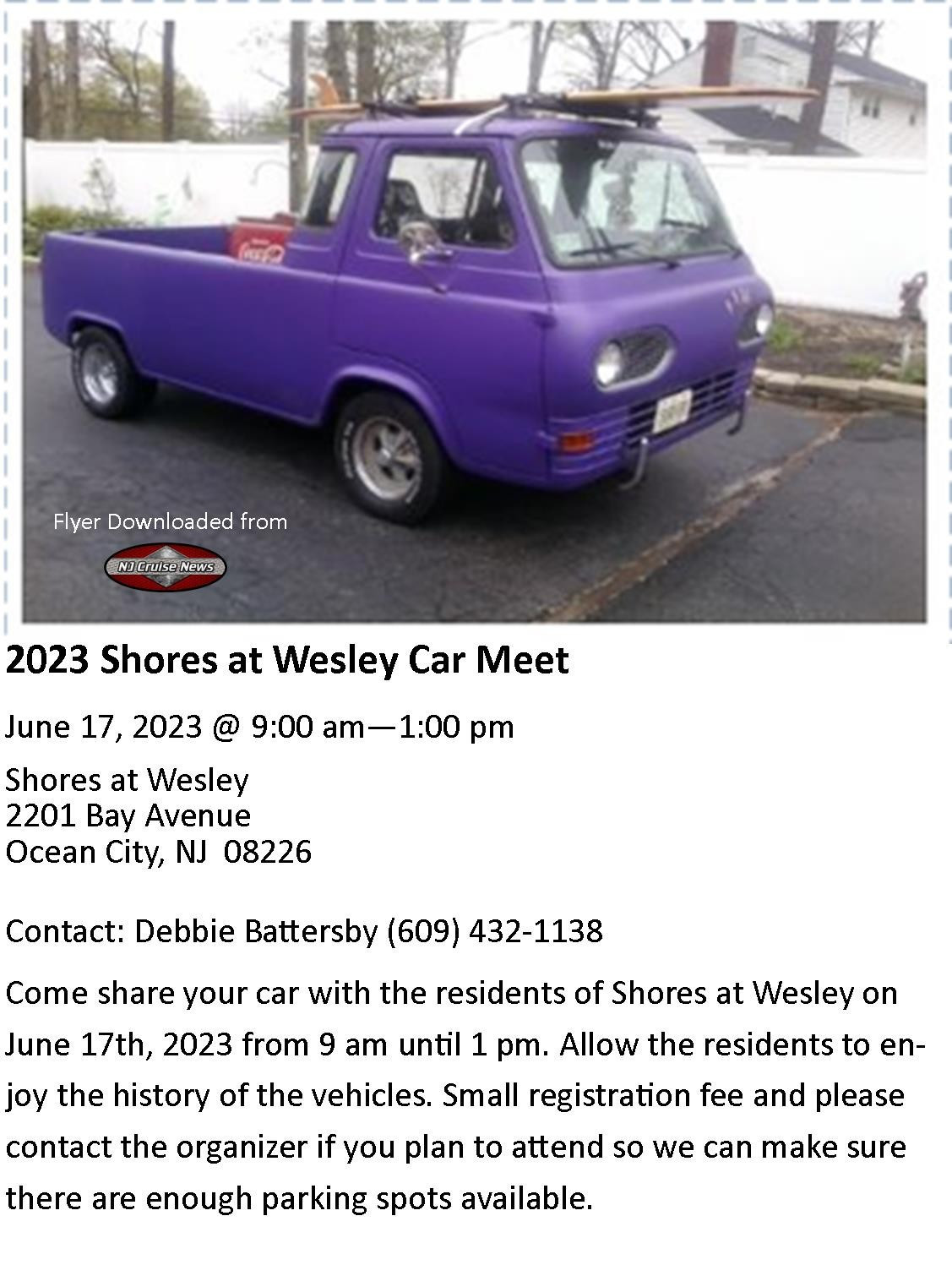 June 17
Shores at Wesley Car Meet
Saturday, June 17th, 2023
9 am - 1 pm

Shores at Wesley
2201 Bay Ave., Ocean City, NJ​

Cars must be at least 25 years old and have UL approved fire extinguisher
(Cape May County)​
​​​​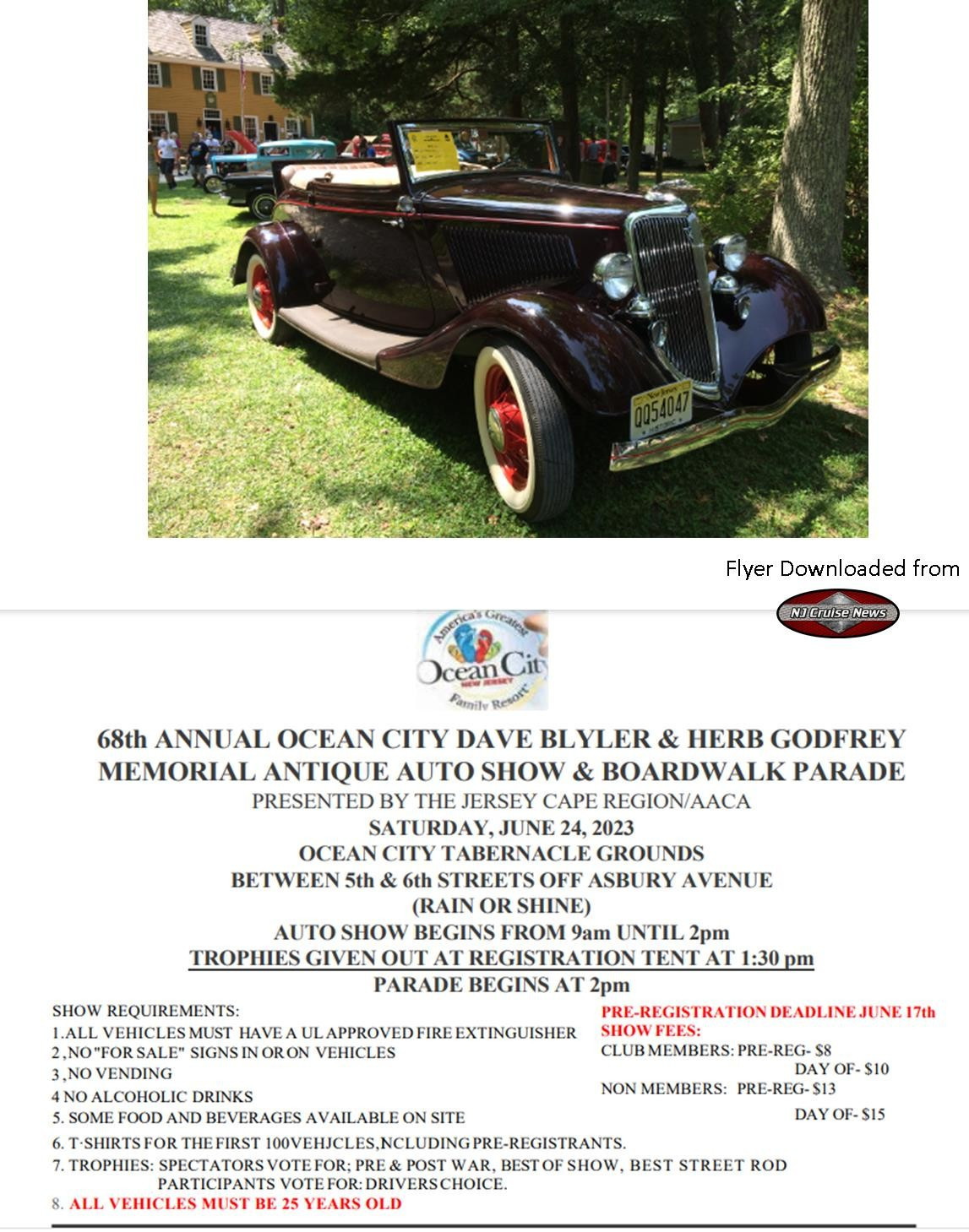 June 24




68th Annual Ocean City Dave Byler & Herb Godfrey Memorial Antique Auto Show & Boardwalk Parade




Saturday, June 24th, 2023​


9 am - 2 pm
Ocean City Tabernacle Grounds
between 5th & 6th Streets
​(off Asbury Ave.)
Ocean City, NJ​n((


(Cape May County)​
​​​​
August 19

Cape Classics 1st Annual Cycle & Auto​ Show​
Saturday, Aug 19th, 2023
10 am - 4 pm
Rain Date: Aug 20​
Kindle Auto Plaza
525 Stone Harbor Blvd.
​Cape May Court House, NJ​
Info: CapeClassicsMC.com
(Cape May County)​
​​​​
September 9
48th Annual Classic Car &
​Street Rod Show
Saturday, Sept. 9th, 2023
12 pm -3:30 pm
Ocean City Boardwalk
Ocean City​,​​ NJ​
Reg: $30

(Cape May County)​
​​​​
September 10
A Day at the Beach Corvette Style
Sunday, Sept. 10th, 2023
8 am - 5 pm
Boardwalk
Ocean City​​​, NJ​

(Cape May County)​
​​​​
September 16
2023 Cape May Antique and Classic Auto Show​
Saturday, Sept. 16th, 2023
8:30 am - 3:00 pm
Cape May City, Cape May, NJ​
Pre-Reg: $8/DOS $10 (Club Members)
Pre-Reg: $13/DOS $15 (Non-Members)
Info: Paul Leonetti (609) 399-5490​​

(Cape May County)​
​​​​
September 22 - 24
Wildwood Fall Classic Car Show
Fri. Sept 22 - Sun. Sept. 24th, 2023

Limited Boardwalk Parking available, alternate options include outdoor Convention Center Circle ($60), and Indoor Custom Rod and Truck Show ($100)​
Wildwood​​, NJ
Info: (609) 522-4546​

(Cape May County)​
​​​​
September 2
Burke Car Truck & Cycle Show
Saturday, Sept. 2nd, 2023
10 am - 2 pm
Burke Auto Group
519 Stone Harbor Blvd,
Cape May Court House,​​​ NJ​
Reg: $20 - All vehicles must register in advance
Info: Francey.burke@burkemotorgroup.com

(Cape May County)​
​​​​
September 17
20th Annual Gerard A. Desiderio Antique Auto Show
Saturday, Sept. 17th, 2023
9 am - 1 pm
Promenade (north of JFK Blvd.)
Sea Isle City, NJ​
Pre-Reg: $9/DOS $12​
Proof of Insurance Required
Info: (609) 263-8687​​

(Cape May County)​
​​​​
September 23
NJJP Invasion
Saturday, Sept. 23rd, 2023

​Rain or Shine
825 Boardwalk
Ocean City​​​, NJ​
Sold Out

(Cape May County)​
​​​​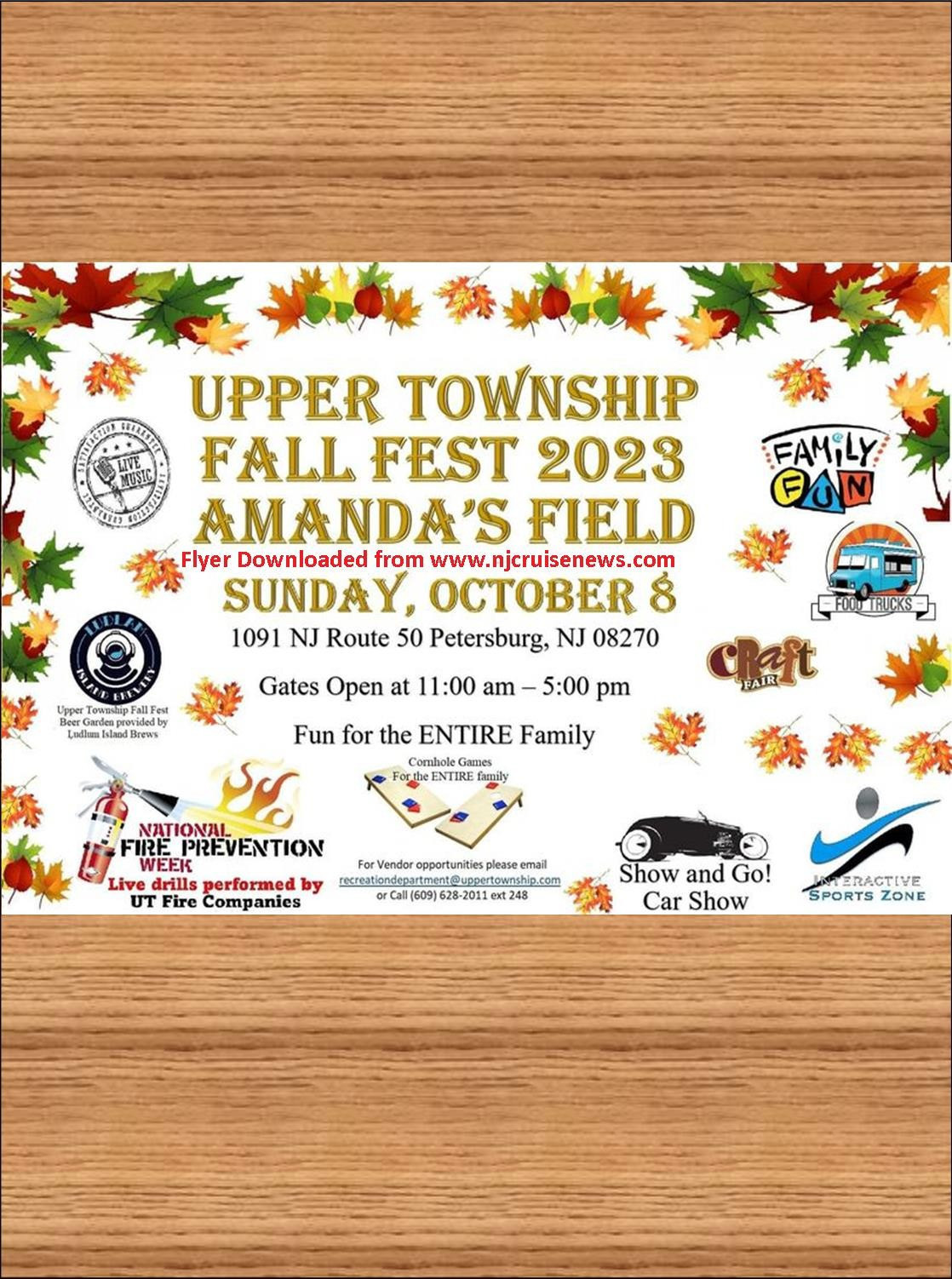 October 8
Upper Township Fall Fest 2023
Sunday, October 8th, 2023
11 am - 5 pm

Amanda's Field
1091 NJ Route 50
Petersburg​​, NJ​
Info: (609) 628 - 2011 x​​248

(Cape May County)​
​​​​