© a super cool and creative website

NJCruise News is not Responsible for any changes in Date, Time, or Change of location. Please contact your local Cruise.
Join NJ Cruise News and Rock N Roll Garage "Hot Rod" Mike on Thursday evenings from 8:00 pm to 10:00 pm for some garage talk and rocking music.
August 27
14th Annual Salute to our Veterans Car Cruise​
Sunday, Aug 27th, 2023
Starts at 10 am
Rain Date: Sept. 10

NJ Veterans Memorial Home
524 NW Blvd, Vineland​, NJ​​
$5 Donation/Vehicle @ Gate,
​ Extra $ Accepted​
Info: ​Bill (609) 381-3249

(Cumberland County)​
​​​​
June 18
Coffee and Chrome Car Show
Saturday, June 18th, 2023
11:00 am - 3:00 pm​
Shoppes at Dragon Village
97 Trench Road, Bridgeton, NJ​
(Cumberland County)​
​​​​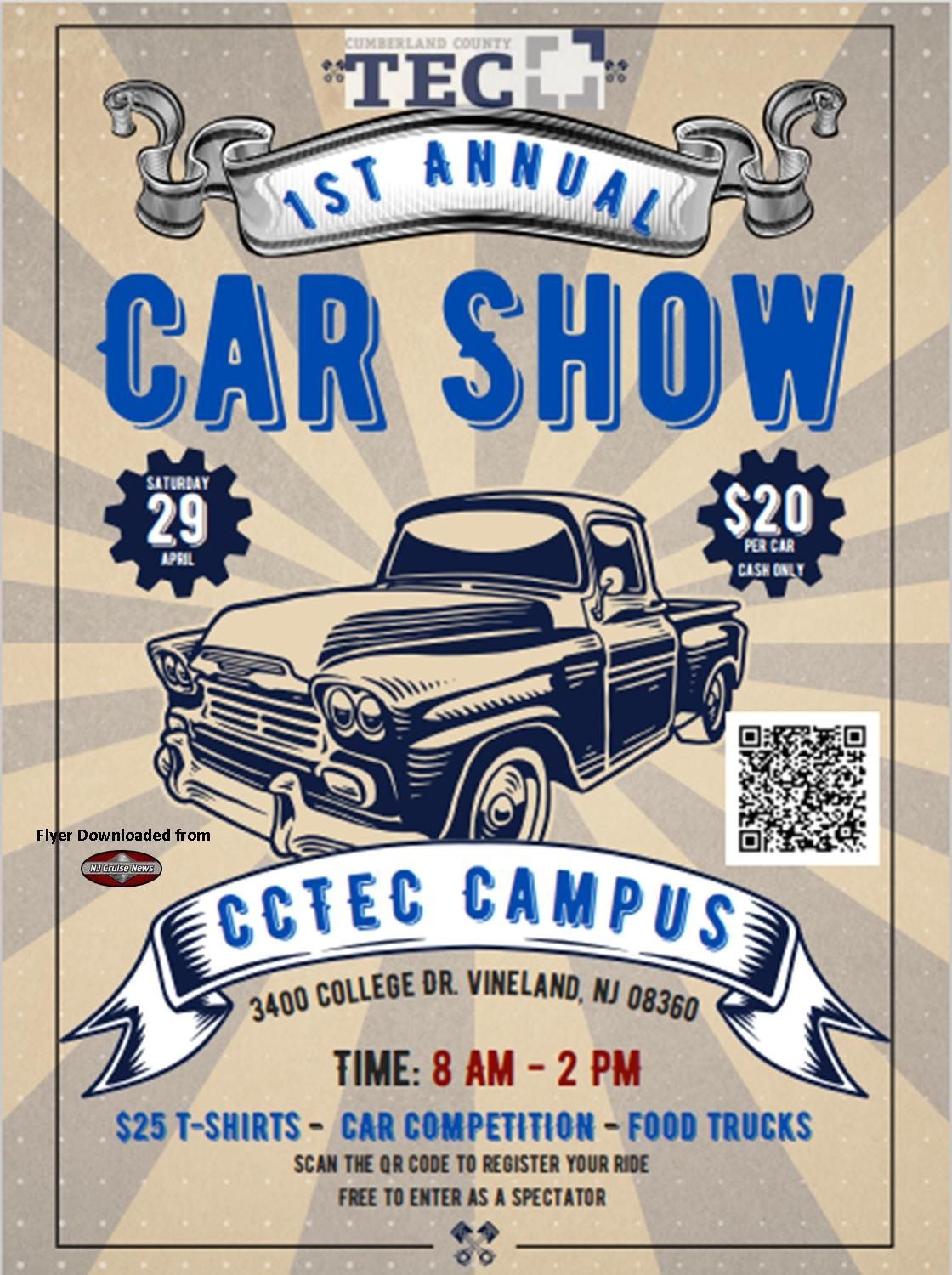 April 29
TEC 1st Annual Car Show
Saturday, ​April 29th, 2023
8 am - 2 pm


Rain Date: May 6​



CCTEC Campus
3400 College Dr., Vineland, NJ​
Reg: $20.00

(Cumberland County)​
​​​​
July 23
12th Annual "Chicken Run" Classic Car Cruise & BBQ
Sunday, July 23rd, 2023
12 Noon - 5 pm
Cedarville Fire Dept.
30 Maple Ave, Cedarville, NJ​
No Entry Fee​
Info: (609) 381-5939​
(Cumberland County)​
​​​​
May 6
Brews & Cruise
Saturday, May 6th, 2023
11 am - 4 pm

Glasstown Brewing Co.
10 Peterson St., Millville​​, NJ​
Info: Bill (609) 805-1709

(Cumberland County)​
​​​​
April 8
Slept on Society Car Meet
Saturday, April 8th, 2023
Starts @ 8 pm

12 Cornwall Dr.
Bridgeton, NJ​
​
(Cumberland County)​
​​​​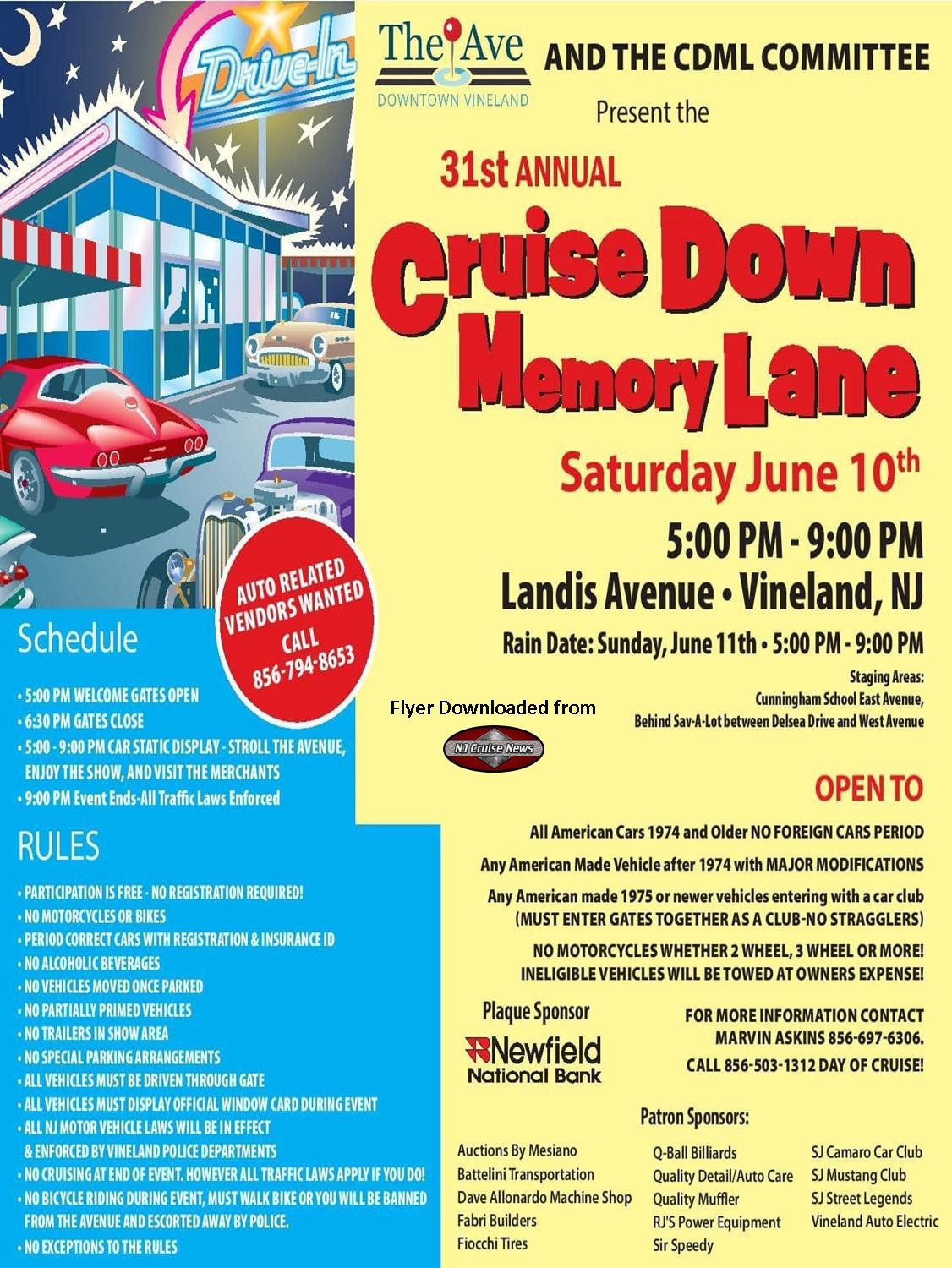 June 10
31st Annual Cruise Down Memory Lane
Saturday, June 10th, 2023
5:00 pm - 9:00 pm​

Rain Date: June 11​
Landis Ave., Vineland​, NJ​​
Info: Marvin (856) 697-6306
(Cumberland County)​
​​​​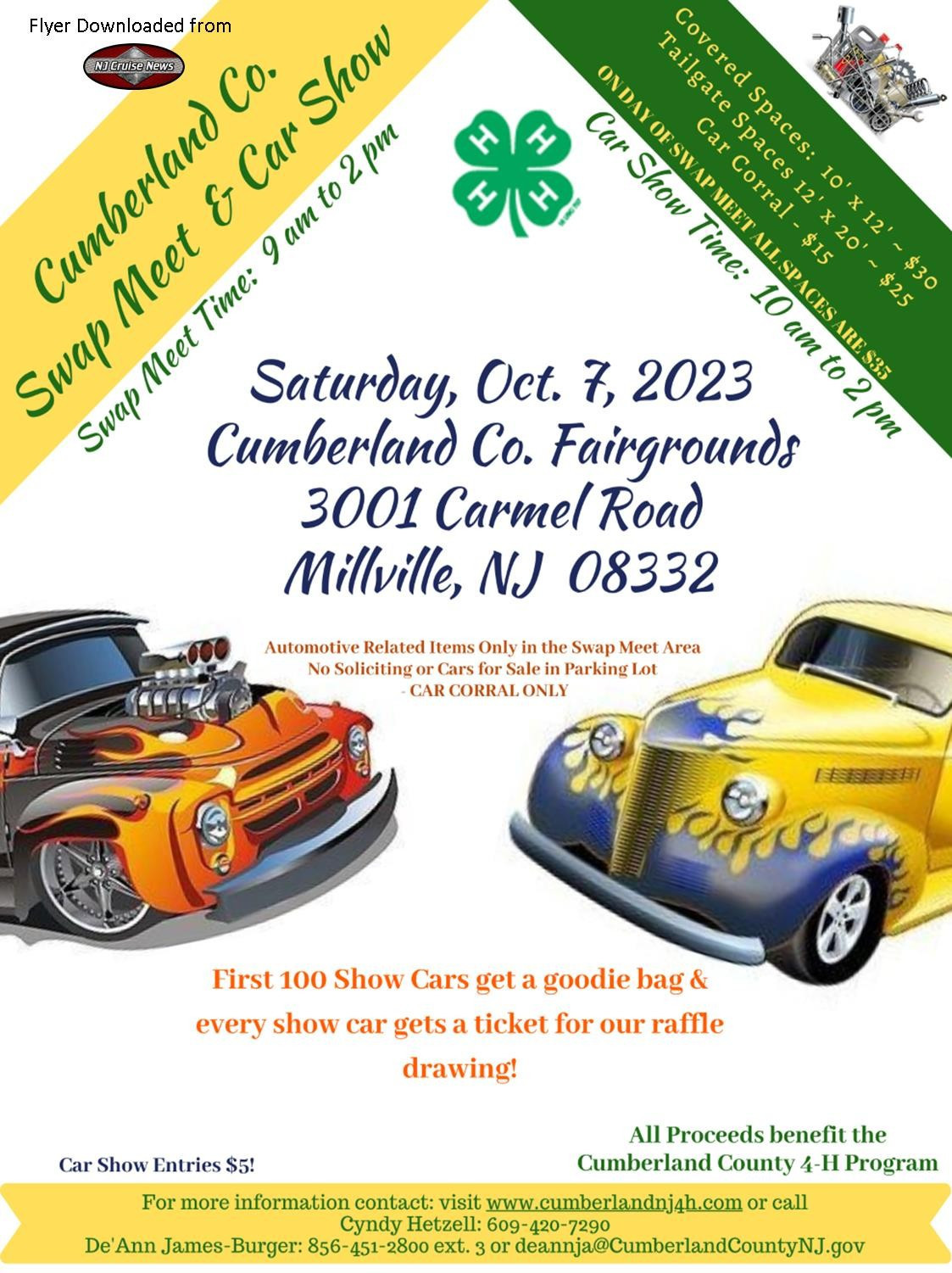 October 7
Cumberland Co. Swap Meet & Car Show
Saturday, October 7th, 2023
Car show: 10 am - 2 pm
Swap meet: 9 am - 2 pm​
Cumberland Co. Fairgrounds
3001 Carmel Rd., Millville​, NJ​
​Car Show Entry $5

(Cumberland County)​
​​​​
June 3
Gyro Fest Take-Out Food Event and Car Show​
Saturday, June 3rd, 2023
Gyros 11 am - 6 pm
Car Show 11 am - 3 pm​
Rain Date: June 4​

St. Anthony Greek
​Orthodox Church
430 W. Wheat Rd., Vineland​​, ​NJ​
Info: Peter (856) 905-7458
(Cumberland County)​
​​​​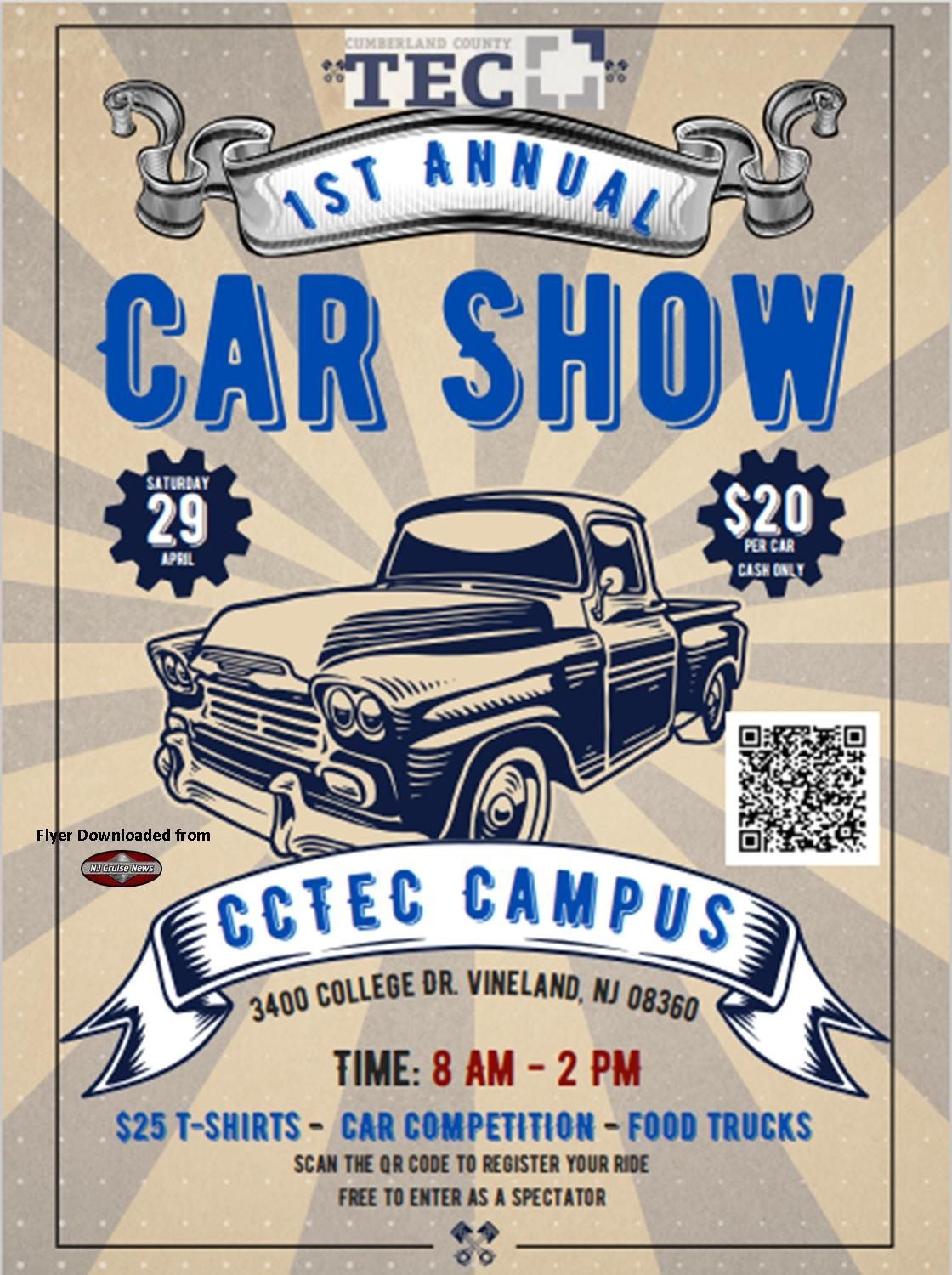 May 6
TEC 1st Annual Car Show
Saturday, ​May 6th, 2023
8 am - 2 pm

CCTEC Campus
3400 College Dr., Vineland, NJ​
Reg: $20.00

(Cumberland County)​
​​​​
May 13
Big Jim Edwards Automotive Show
Saturday, May 13th, 2023
10 am (Registration 8 am​)


Rain Date: May 14​



Onthe Bridgeton Riverfront
2 E. Commerce St​​​.
Bridgeton​, NJ​​
Fee: $10
Info: (856) 207-3070

(Cumberland County)​
​​​​
Postponed to Sunday, May 14
July 30
Christmas in July
Sunday, July 30th, 2023
9 am - 1 pm
Rosary Hall
St. Padre Pio Parish
4680 Dante Ave.
Vineland​​​​, NJ
Reg: $20.00/Buffet: $15
(Cumberland County)​
​​​​
June 17
Father's Day Weekend Car Show
Saturday, June 17th, 2023
9 am - 3 pm
Rain Date: June 24
Shiloh Baptist Church
1837 N. East Blvd., Vineland​, NJ​
Reg: $20
Info: (856) 206-6571 or (856) 364-8493​​

(Cumberland County)​
​​​​
July 29
2nd Car Show of the Puerto Rican Week Show
Saturday, July 29th, 2023
12 pm - 5 pm
Landis Park
​Vineland, NJ
Info: (787) 439-3310
(Cumberland County)​
​​​​
July 29
SVRA Speed Tour


​

Hagerty Cars & Caffeine
Saturday,July 29th, 2023
New Jersey Motorsports Park
8000 Dividing Creek Rd.
Millville, NJ
​Entry Fee: $75
Info: Toni (863) 698-8620​
(Cumberland County)​
​​​​
August 1
National Night Out
​Classic Car Show

Tuesday, Aug 1st, 2023
Vineland High School
2880 East Chestnut Ave.
Vineland​​., NJ​

(Cumberland County)​
​​​​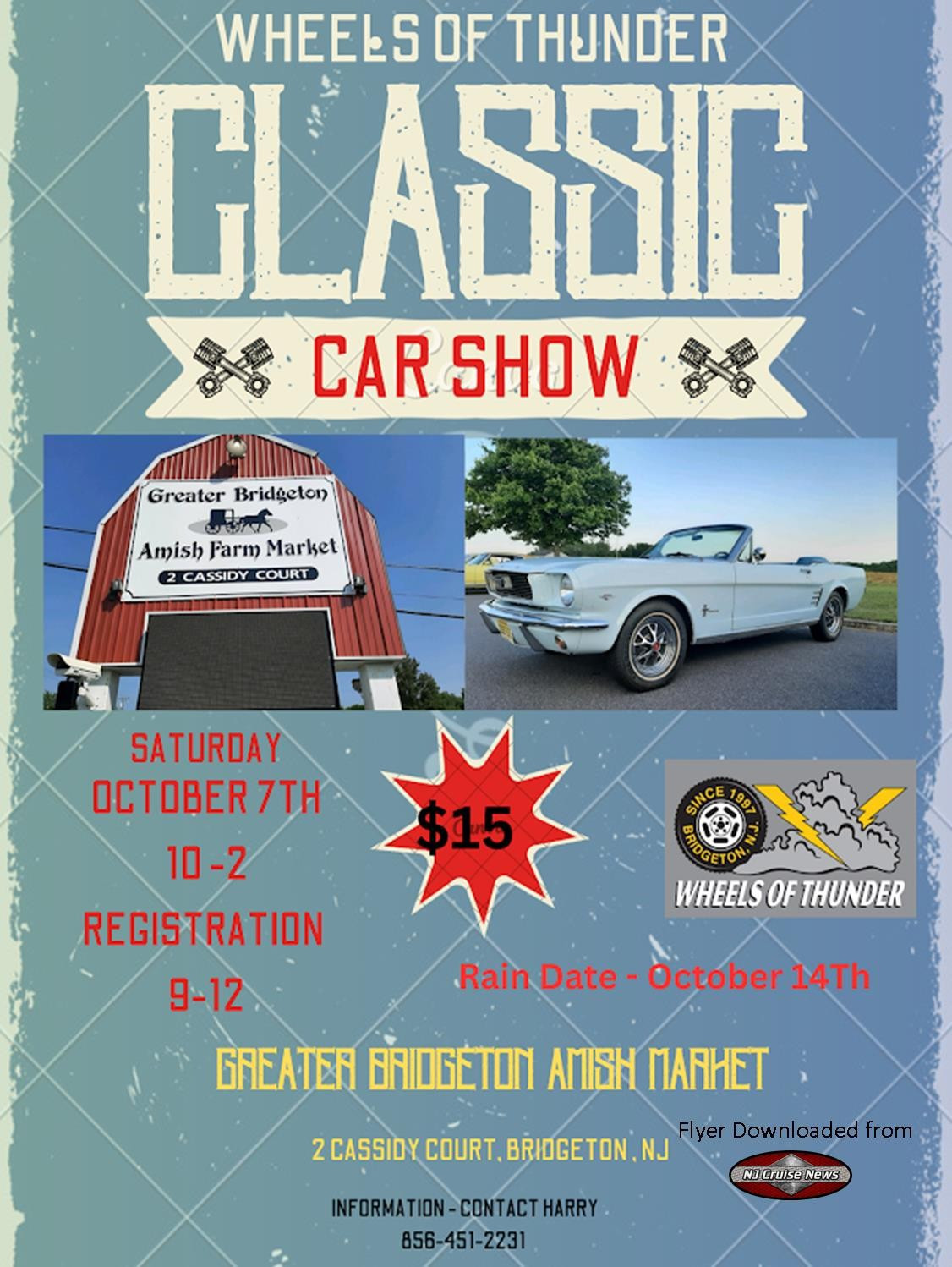 October 7
Wheels of Thunder Classic Car Show​
Saturday, October 7th, 2023
10 am - 2 pm
Registration 9 - 12 pm
Rain Date: Oct. 14​
Greater Bridgeton Amish Market
2 Cassidy Court, Bridgeton​, NJ
Reg: $15
Info: Harry (856) 451-2231

(Cumberland County)​
​​​​
September 30
Throwback Thursday Classic Cruisin' Car Show
Saturday, Sept. 30th, 2023
Registration 9 am - 2 pm
LoBiondo Park
678 Morton Avenue
Deerfield Twp., NJ​​
Pre-Reg: $10/DOS $15 (cash only)
​
(Cumberland County)​
​​​​
August 12
2nd Annual South Jersey
​Street Riders Car ​Show​
Saturday, Aug 12th, 2023
9 am - 3 pm

Uncle Ricky's Outdoor Bar
470 Wheat Rd., Vineland​, NJ​​

Reg: $20​
Info: Ken (856) 206-6571​
(Cumberland County)​
​​​​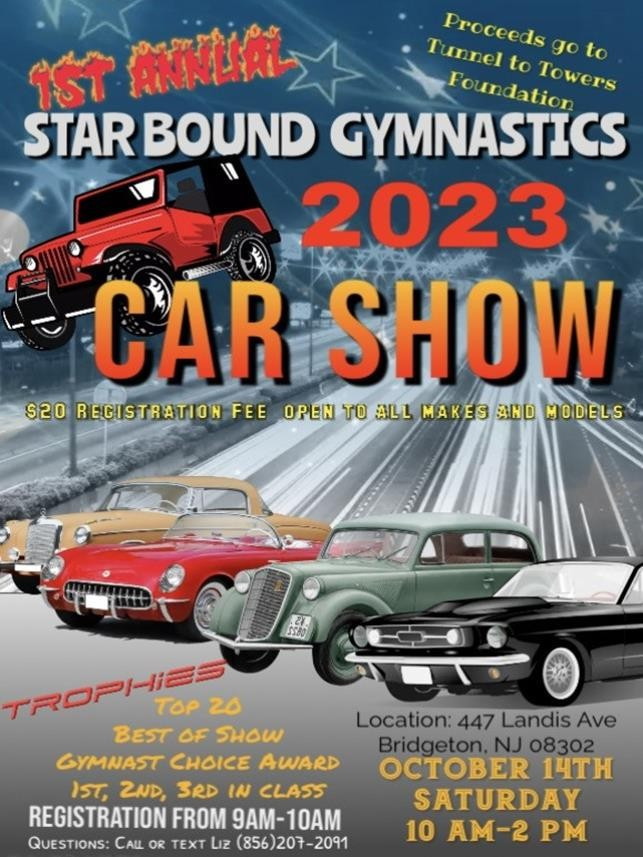 October 14
1st Annual Star Bound Gymnastics Car Show
Saturday, October 14th, 2023
10 am - 2 pm
447 Landis Avenue
Bridgeton, ​ NJ​
Reg: $20
Info: Liz (856) 207-2091​

(Cumberland County)​
​​​​
September 9
Fuel Fest 2023
Saturday, Sept. 9th , 2023
1 pm - 8 pm
New Jersey Motorsports Park
8000 Dividing Creek Road
Millville, NJ​
Genl Adm: $35 (kids under 12 free when accompanied by ticket holder)
Car Reg: $60 - $500​​​​

(Cumberland County)​
​​​​
September 10
Golden Classics of South Jersey
21st Annual Car ​Show
Sunday, Sept. 10th, 2023
9 am - 3 pm


Rain Date: Sept 17​


16 Old Cohansey Rd.
Bridgeton​​​, NJ
​​​Info: (856) 451-3994

(Cumberland County)​
​​​​
September 16
32nd Anniversary Millville
​Car Show
Saturday, Sept. 16, 2023
11 am - 3 pm

Rain Date: Sept. 17
High Street (between Main and Broad)
Millville, NJ​​
Free Entry to Car Owners​
(Cumberland County)​
​​​​
Postponed
Rain Date 9/17​
September 17
Golden Classics of South Jersey
21st Annual Car ​Show
Sunday, Sept. 10th, 2023
9 am - 3 pm


Rain Date: Sept 17​


16 Old Cohansey Rd.
Bridgeton​​​, NJ
​​​Info: (856) 451-3994

(Cumberland County)​
​​​​
October 14
The Lone Ranger Jeep and Car Show
Saturday, October 14th, 2023
10 am - 2 pm
3780 N. Delsea Dr.
Vineland​, ​ NJ​

(Cumberland County)​
​​​​