© a super cool and creative website


NJ Cruise News is not Responsible for any changes in Date, Time, or Change of location. Please contact your local Cruise.
May 20
LKQ Car Show​
Saturday, May 20th, 2023
9:00 am - 1:00 pm​
Rain Date: ​May 21

39 Phoenix Drive
​West Deptford, NJ​​
Cost: $20/vehicle
Info: Linda (609) 206-9765​

(Gloucester County)​
​​​​
April 29




Delsea Car Show


Saturday, ​April 29th, 2023
​10 am - 2:30 pm
Delsea Regional High School
242 Fries Mill Rd., Franklinville, NJ​
Pre-reg: $15/DOS $20P


(Gloucester County)​
​​​​
Mondays in Mantua


Every Monday, April 10
5pm - Dark (weather permitting)
​
@ Toll House Plaza
222 Bridgeton Pike, Mantua, NJ​
No cruise Memorial Day or Labor Day​​
​​

Just show up, hang out, and hopefully see some cool rides!


(Gloucester County)​​
House of Brews Great American Free Cruise


Sundays 6/18, 7/16, 10/15*
12 pm til (weather permitting)
* this is toy run collection​
​
@ Walmart Plaza
3501 NJ-42, Turnersville, NJ​
(Gloucester County)​​
Bourbon & Brews
​Monthly Cruise Nights
3rd Thursday of every month,
5/18, ​ 6/15, 7/20, 8/17, 9/21
​5 pm - ?
​
@ Bourbon & Brews
2001 S. Delaware St, Paulsboro, NJ

​(Gloucester County)

Caffeine & Chrome
Last Saturday 9 am - 12 pm
1/28, 2/25, 3/25, 4/29, 5/27, 6/24, 7/29, 8/26 (Cause for Paws)​, 9/30, 10/28 (Trunk or Treat), 12/2 (Holiday Party)

1228 Forest Parkway, West Deptford, NJ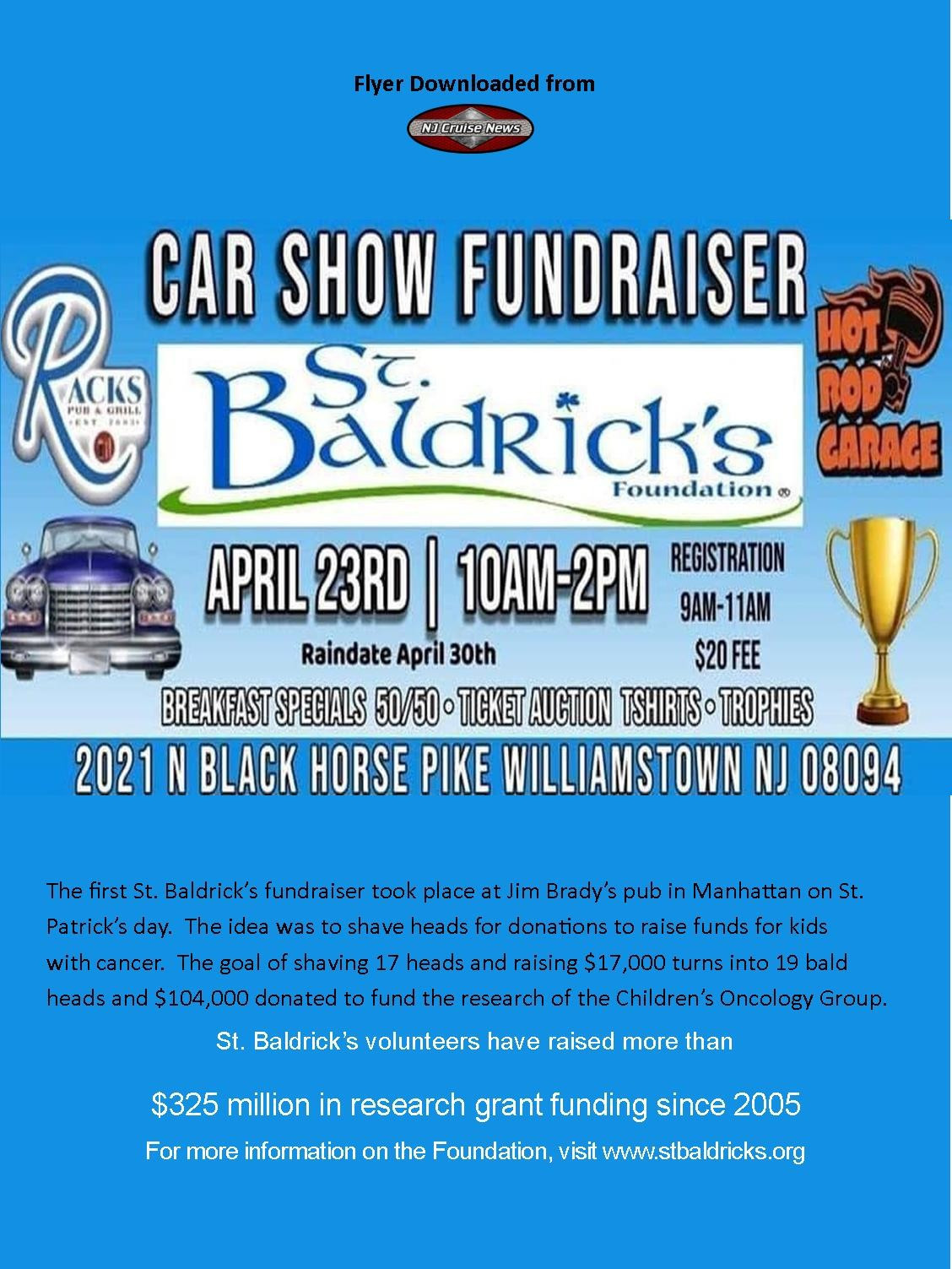 April 23


St. Baldrick's Foundation
Car Show Fundraiser
Sunday, April 23rd, 2023
​10 am - 2 pm
Rain Date: April 30th​
Rack's Pub & Grill
2021 N. Black Horse Pike, Williamstown, NJ​
Reg: $20​
Info: 856 417-2669e


(Gloucester County)​
​​​​

​Pandora Diner
1st Sundays, Breakfast 9 am
2/5, 3/5, 4/2, 5/7, 10/1, 11/5, 12/3
​​

Pandora Diner
1741 Black Horse Pike, Williamstown, NJ​
May 13
The Tabernacle's
​2nd Annual Classic Car Show
Saturday, May 13th, 2023
11 am - 4 pm​
962 N Delsea Dr.
Clayton​,​ NJ​​
Judging takes place @ 2 pm
Contestant Fee: $20

Info: (856) 881-4881

(Gloucester County)​
​​​​
May 13
POW MIA MC
​Car-Truck-Bike Show
Saturday, May 13th, 2023
10 am - 2 pm

Rain Date: May 20th
VFW Post 2071
2070 Delsea Dr, Franklinville​, NJ​​
Reg: $20
Open to years 1990 and below​
Info: jowe10@comcast.net

(Gloucester County)​
​​​​
House of Brews
​Thursday Night Cruise
1st Thursday of the month
​5:30 pm


@ House of Brews
3501 NJ-42
Turnersville, NJ​​
Info: (856) 336-2639​

​(Gloucester County)
April 1
2nd Annual Car Show for Vineland Veterans Home
Saturday, April 1st, 2023
10 am - 2:30 pm


Rain Date: ​April 2


Chestnut Branch Park
545 Main St., Sewell​, NJ

Reg: $25
Info: (856) 371-9047
(Gloucester County)​
​​​​
April 29 - New date May 7
​Olde Stone House Village
15th Annual ​Classic Car Show
Saturday, April 29th, 2023
10 am - 2 pm​


New Date: May 7


Olde Stone House Village
208 Egg Harbor Road, Sewell, NJ​
Pre-reg: $10/DOS $15​
June 25




3rd Annual Paws Healing Heroes Show




Sunday, June 25th, 2023


10 am - 3 pm
Rain Date: July 2
Parke Bank
​601 Delsea Dr
Sewell​​​​, NJ​n


(Gloucester County)​
​​​​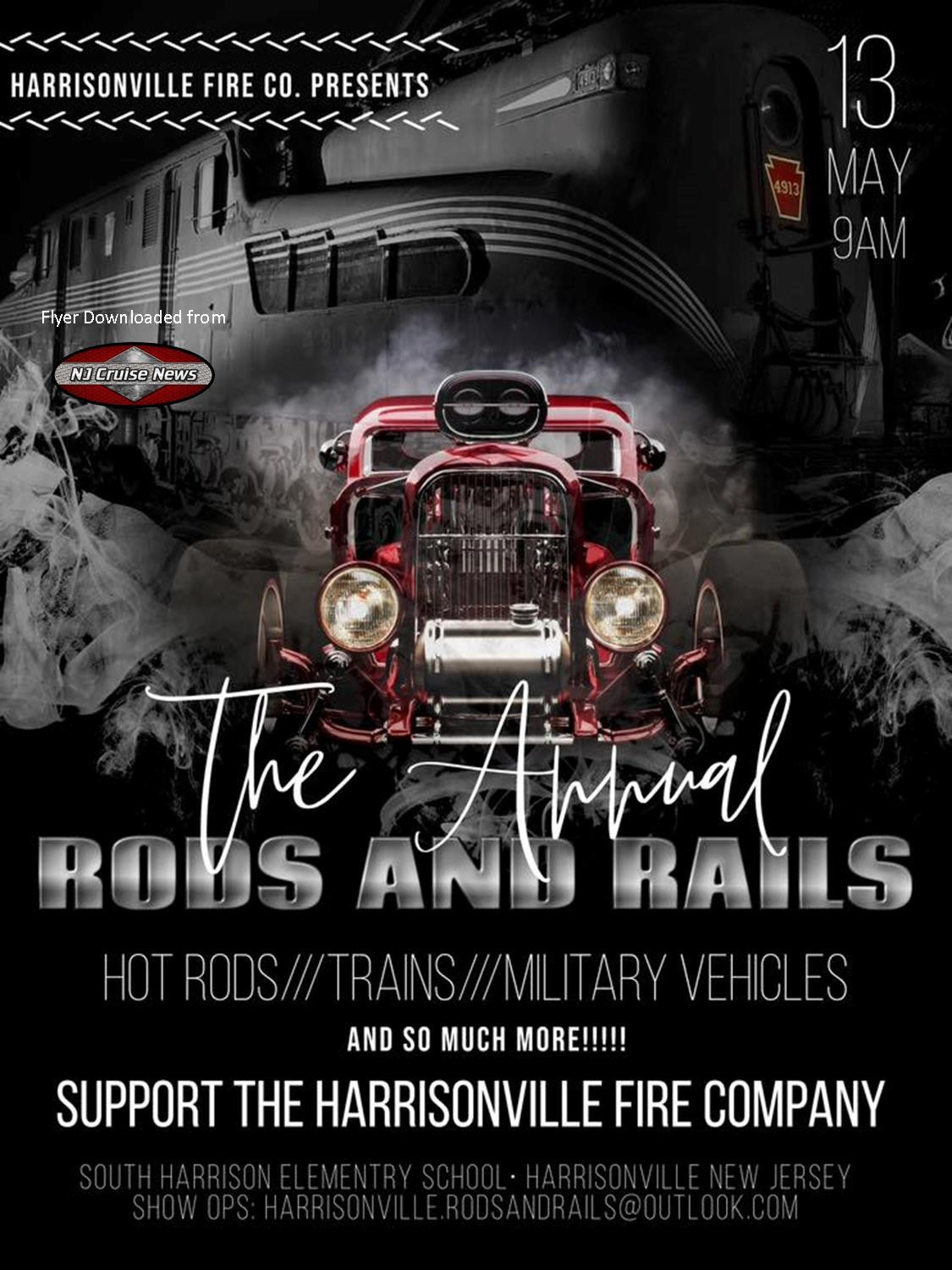 May 13
The Annual Rods & Rails Car Show
Saturday, May 13th, 2023
9 am - 4 pm

South Harrison Elementry School
904 Mullica Hill Rd.​
Harrisonville​, NJ​​
Donation: $10​

(Gloucester County)​
​​​​
April 22
Pharoahs CC South Jersey
Cars and Coffee​
Saturday, April 22nd,​ 2023
8 am - 11 am

Pep Boys
711 Delsea Dr.​,
Glassboro, ​​NJ
(Gloucester County)​
​​​​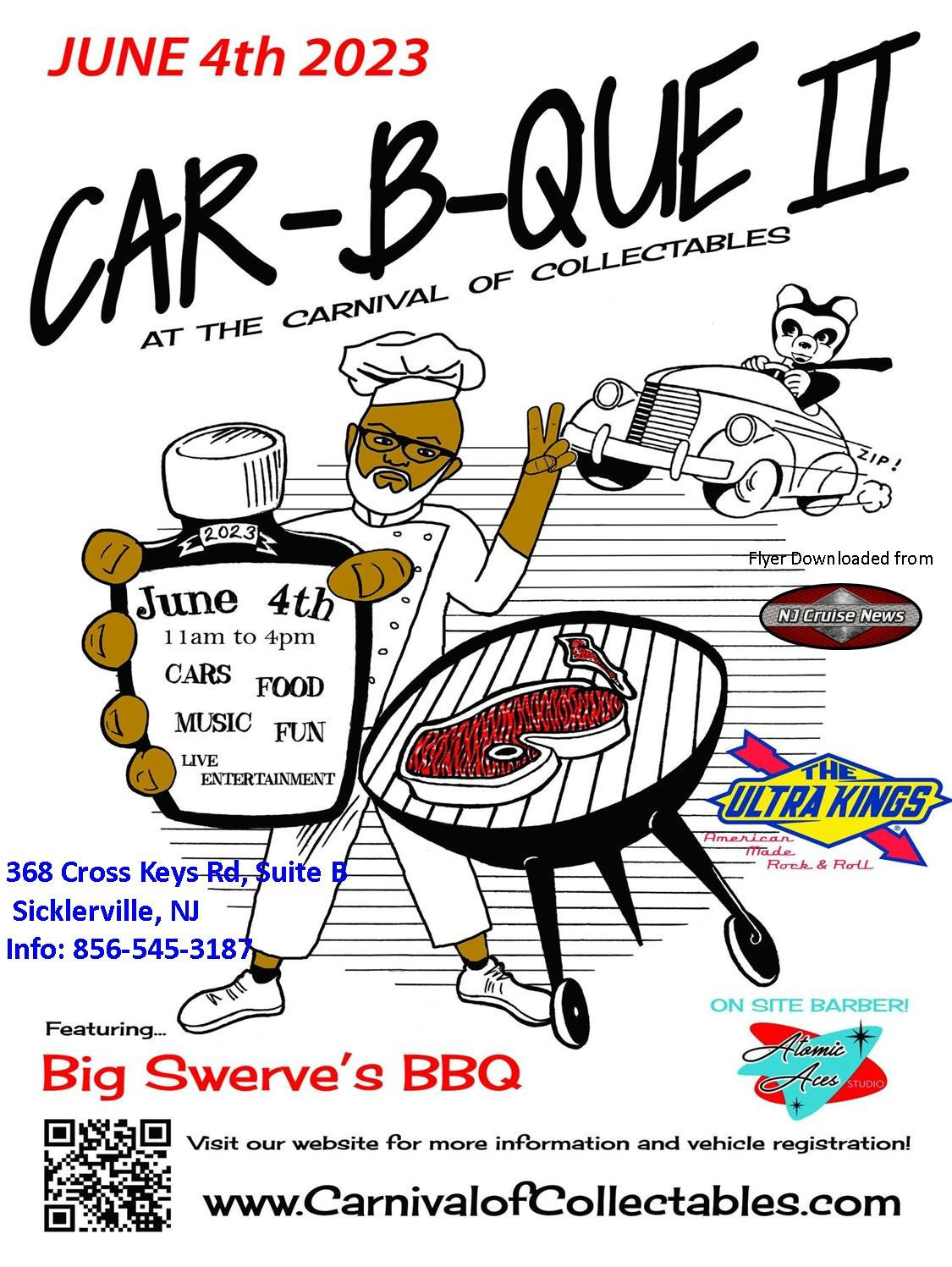 June 4
Car-B-Que II at the Carnival of Collectables
Sunday, June 4th, 2023
11 am - 4 pm​
368 Cross Keys Rd., Suite B
​Sicklerville, NJ, Winslow Twp.
Pre-Reg: $15/DOS $20​
Info: 856-545-3187​
(Camden County)​
​​​​
May 13
Gloucester County 4-H Fair Association Spring Festival
(and Car/Jeep Show)​

10 am - 3 pm
Car Show: 10 am - 2 pm​

275 Bridgeton Pike
Mullica Hill, NJ​
Info: Jen (856) 466-0351

(Gloucester County)​
​​​​

​Here's the Scoop Car Cruise
Every 1st Friday, 5 pm
May 5 - October​
​
Here's the Scoop
3400 Tuckahoe Rd., Franklinville, NJ​​
All Cars Welcome!​
(Gloucester County)​
​
May 7
​Olde Stone House Village
15th Annual ​Classic Car Show
Sunday, May 7th, 2023
10 am - 2 pm​
Olde Stone House Village
208 Egg Harbor Road, Sewell, NJ​
Pre-reg: $10/DOS $15​
May 21
Woman Owned Car Show Fundraiser
Sunday, May 21st, 2023
10:00 am - 2:00 pm​

Racks Pub & Grill
2021 N. Black Horse Pike
Williamstown​​, NJ
Info: (856) 966-1652​

(Gloucester County)​
​​​​
June 3
Monroeville Fire Company
Car ​Show and Beef N Beer
Saturday, June 3rd, 2023​
5 pm - 11 pm
Monroeville Fire Company
414 Monroeville Rd., Monroeville​​​, ​NJ​
Beef & Beer Tickets; $35
Car Show: $​10 or free with purchase of Beef & Beer ticket
(Gloucester County)​
​​​​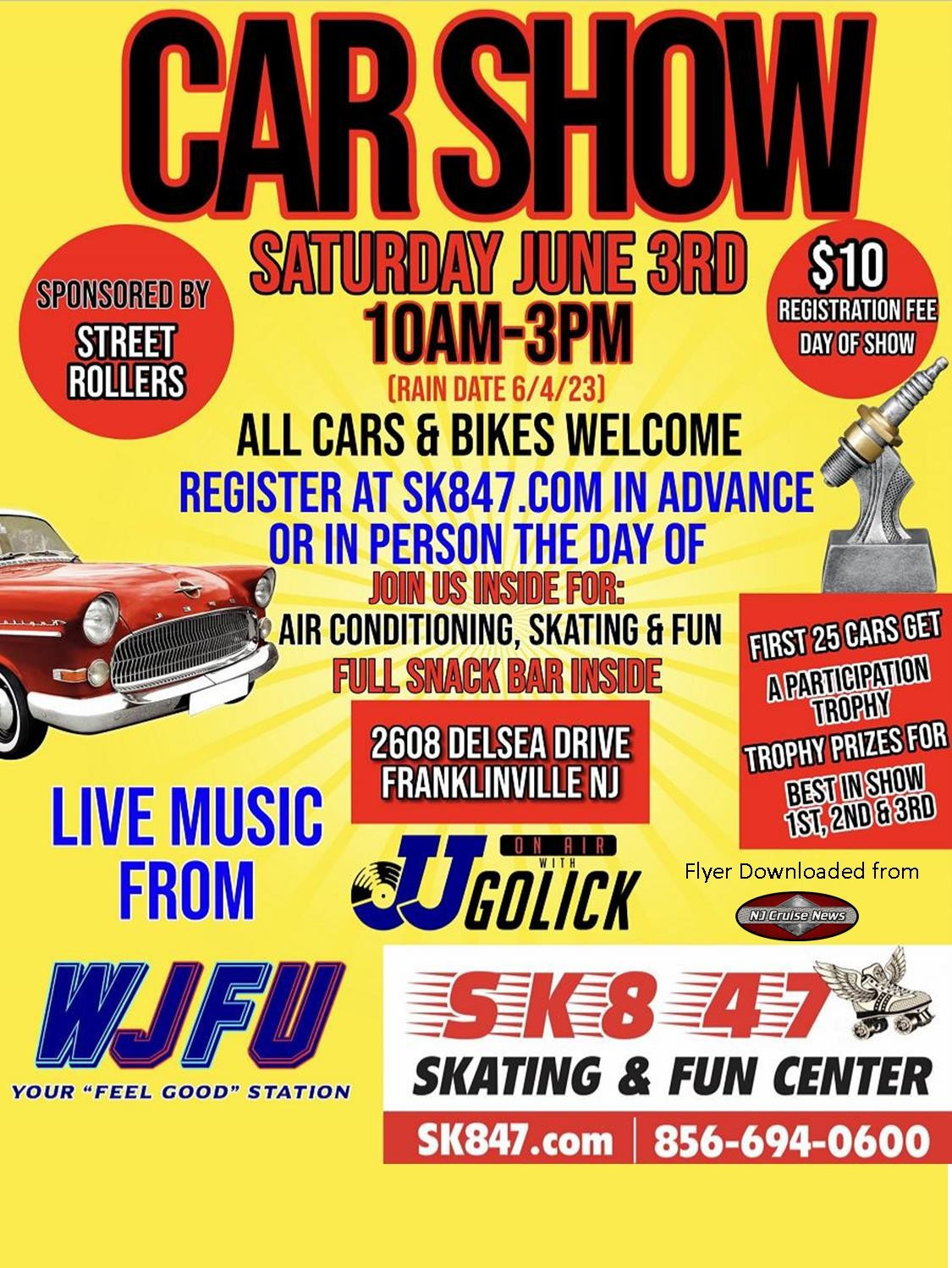 June 3
SK8 47 Car Show
Saturday, June 3rd, 2023
10 am - 3 pm

Sk8 47 Skating & Fun Center
2608 Delsea Dr., Franklinville​​, ​NJ​
Reg: $10​
Info: (856) 694-0600
(Gloucester County)​
​​​​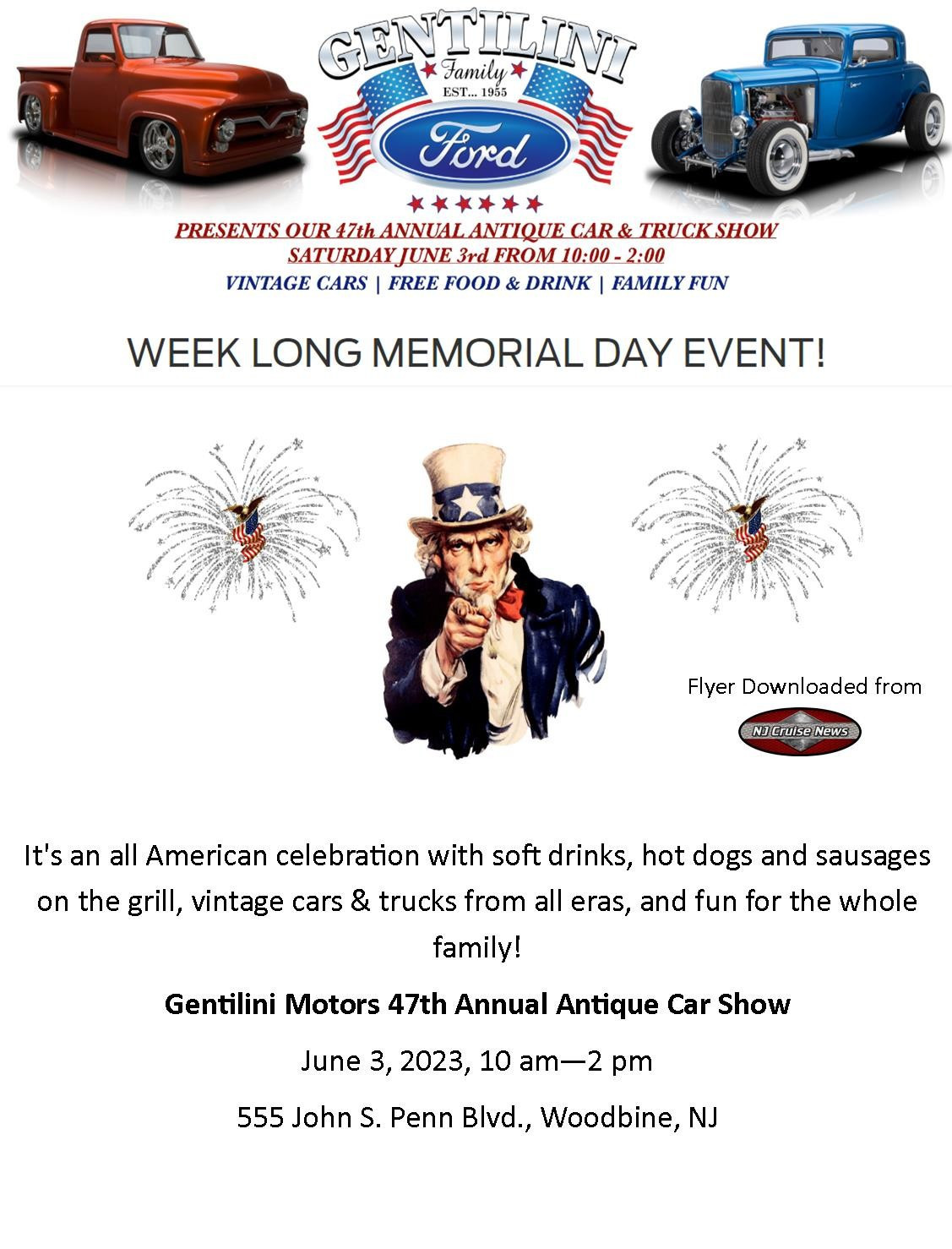 June 3
Gentilini Motors 47th Annual Antique Car & Truck Show
Saturday, June 3rd, 2023​
10 am - 2 pm
Gentilini Motors
555 John S. Penn Blvd,
​Woodbine​, ​NJ​
No Charge for Entry​

(Gloucester County)​
​​​​
July 23
I Will Remember For You
​Car Show to End Alz
Sunday,July 23rd, 2023
11 am - 3 pm
Rain Date: July 30​
Racks Pub & Grill
2021 N. Black Horse Pike
Williamstown, NJ
$20 Fee

(Gloucester County)​
​​​​
June 10
Family Fun Day Car-nival and Car Show

Saturday, June 10th, 2023
10 am - 2 pm​

Calvary Plaza
Kids Summit Bldg.
5360Rt. 42 N., Turnersville,​​ ​NJ

(Gloucester County)​
​​​​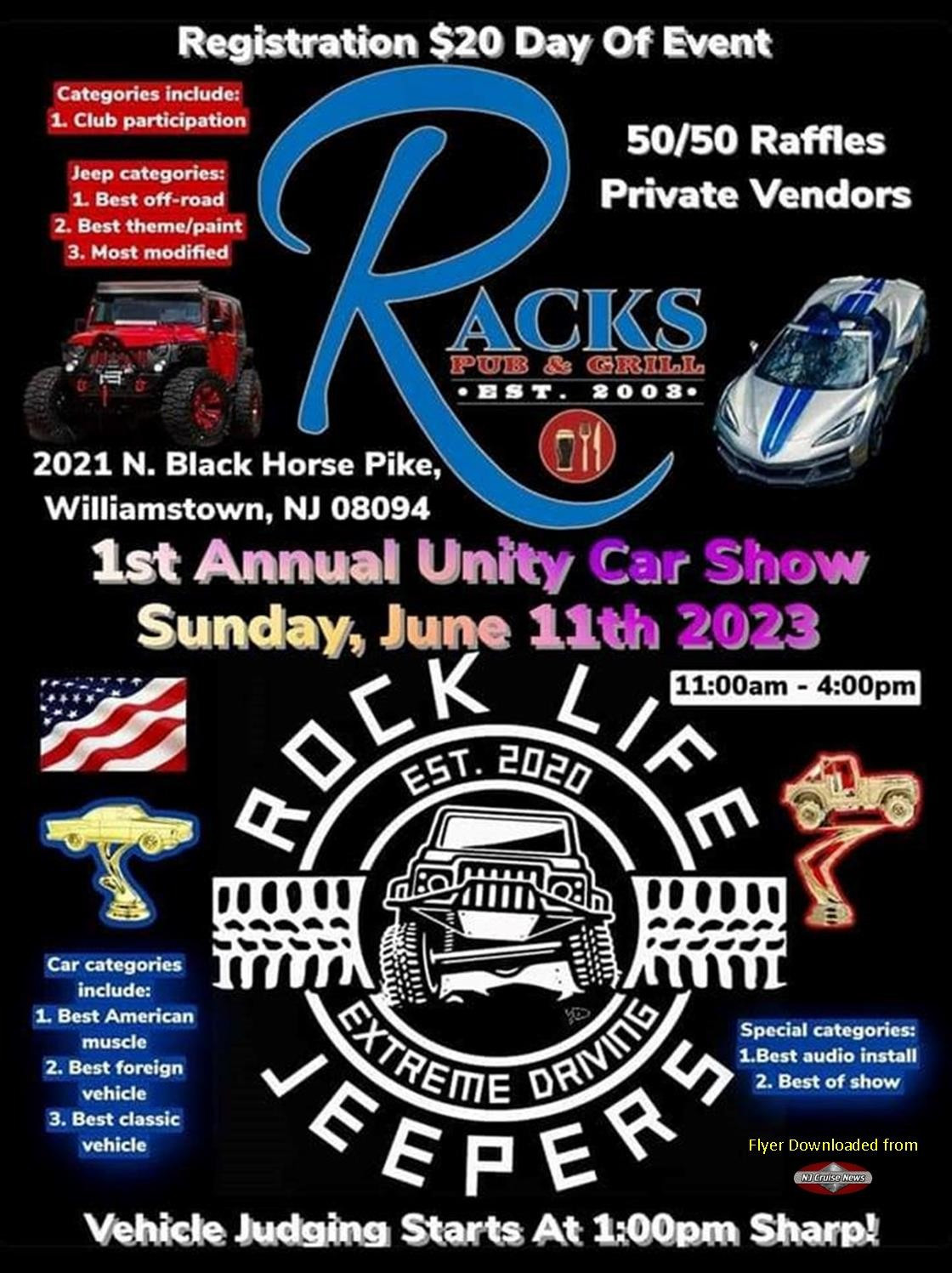 June 11




1st Annual Unity Car Show




Sunday, June 11th, 2023


11 am - 4 pm
Racks Pub & Grill
2021 N. Black Horse Pike
Williamstown​​, NJ​


Reg: $20

n


(Gloucester County)​
​​​​
June 18
Father's Day Car Show Fundraiser for Pancreatic Cancer

Sunday, June 18th, 2023
10 am - 2 pm​
Rain Date: June 25​

Rack's Pub & Grill
2021 N. Black Horse Pike, Williamstown,​ ​​NJ
$20 fee

(Gloucester County)​
​​​​
July 16
All American Car Show
Sunday, July 9th, 2023
10 am - 2 pm


Rain Date: July 16th​


Rack's Pub and Grill
2021 N. Black Horse Pike, Williamstown​, NJ
Reg: $20​
Info: (856) 417-2669
(Gloucester County)​
​​​​
June 24
Terraces at Parke Place Car Show
Saturday, June 24th, 2023
11 am - 2 pm
Terraces at Parke Place
661 Delsea Dr., Sewell​​​, NJ​

Info: (856) 256-1776
(Gloucester County)​
​​​​

​All American Fridays
Every 3rd Friday, 6 pm - 9 pm
Starting May 2023
​
Cruise Nights @ House of Brews
3501 Route 42, Suite 510
Turnersville, ​NJ​​
All American Made Vehicles Welcome
(Gloucester County)​
​
Help Stop Overdose Jerz Cars & Coffee Meet
Sundays, 9 am - 11:30 am
6/4, 6/11, 6/18, 6/25, 7/2, 7/9, 7/16, 7/23, 7/30, 8/6, 8/27, 9/3, 9/17, 9/24
​​

Sears Appliances & Hardware Store
616 N. Delsea Dr., Glassboro, NJ​

Hun
June 24
Westville Waterfront Car Show
Saturday, June 24th, 2023​
10 am - 2 pm
Along the River, GPS address:
500 block, River Drive, Westville, NJ​
Reg: $20, Cash Only
Info: (856) 904-4843 or
​(856) 524-2588​​

(Gloucester County)​
​​​​
July 29
​Gloucester 4-H Fair Car Show
Saturday, July 29th, 2023
9 am - 2 pm
Glouchester County 4-H Fairgrounds
275 Bridgeton Pk., Mullica Hill​​, NJ
$20.00 Entry for Participants
$10.00 Parking (good for 4 days)​
Info: Bob (267) 909-1755 or
George (856) 304-3734​
(Gloucester County)​
​​​​
July 22
Glassboro Historicall Society
Hot Rod & Classic Car Meet Up
Saturday,July 22nd, 2023
1 pm - 4 pm​
Gates open at Noon​
West Jersey Depot
354 Oakwood Ave.,
Glassboro​​, NJ
Info: info@glassborohistory.org

(Gloucester County)​
​​​​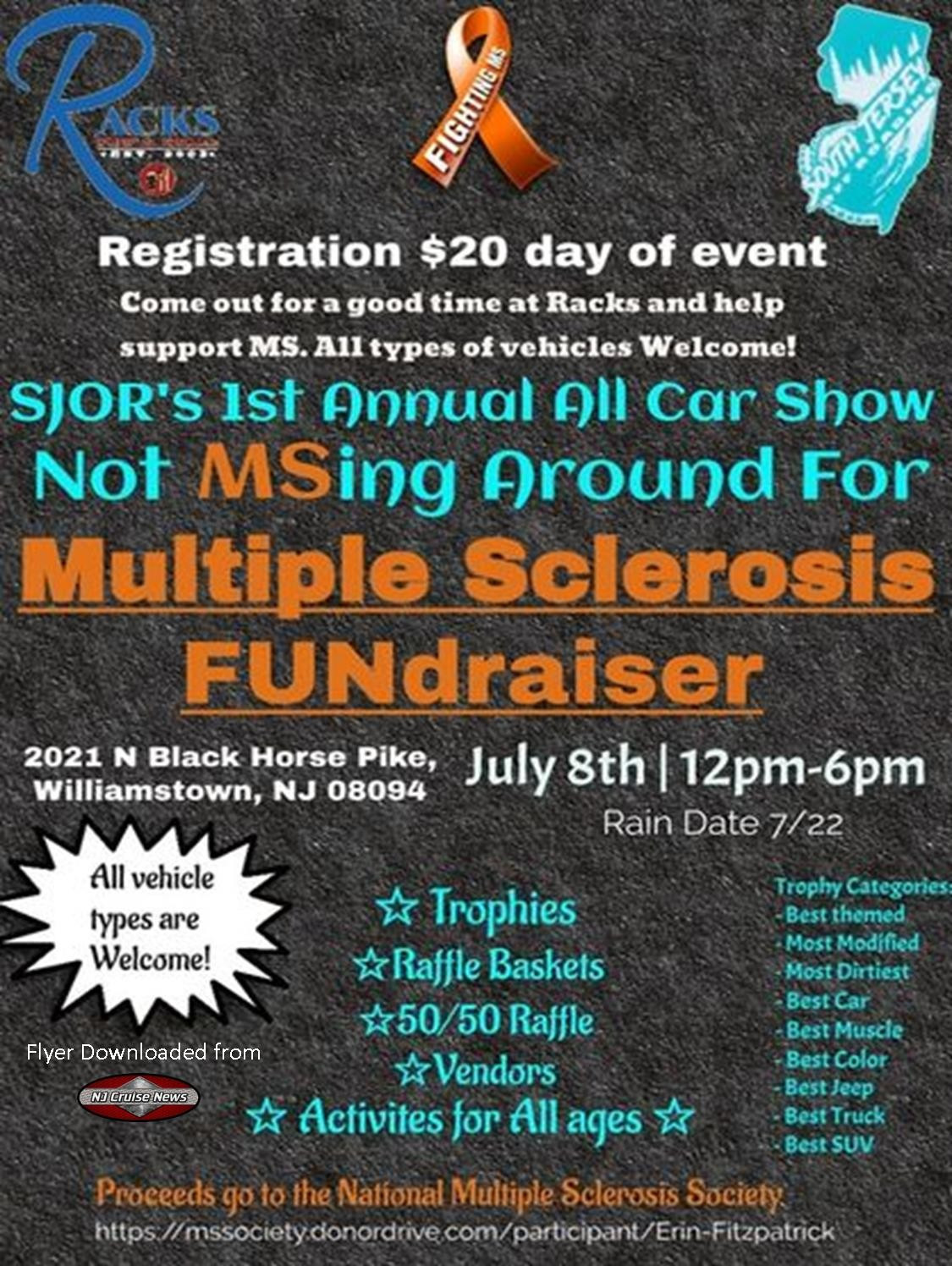 July 22
Not MSing Around Multiple Sclerosis FUNdraiser
Saturday, July 22nd, 2023
12 pm - 6 pm
Racks Pub & Grill,
2021 N. Black Horse Pike
Williamstown,​​ NJ​
Reg: $20

(Gloucester County)​
​​​​
July 20


Bourbon & Brews July Cruise
Car Show


Thursday,July 20th, 2023


5 pm
Bourbon & Brews
2001 S. Delaware St.
​Paulsboro​, NJn


(Gloucester County)​
​​​​
July 22
Delsea Drive-In Classic Car Show
Saturday, July 22nd, 2023
Registration is Now Open
Delsea Drive-In Theatre
2203 South Delsea Drive
Vineland, NJ​​
Info: 856-696-0011​

(Gloucester County)​
​​​​
August 5
Mood's Farm Market
​Annual ​Car Show

Saturday, Aug 5th, 2023
10 am - 3 pm
Mood's Farm Market
901 Bridgeton Pike, Mullica Hill​, NJ​
(Gloucester County)​
​​​​
August 5
All American Car Show
Saturday, August 5th, 2023
10 am - 2 pm
Rain Date: August 12th​
Rack's Pub and Grill
2021 N. Black Horse Pike, Williamstown​, NJ
Reg: $20​
Info: (856) 417-2669
(Gloucester County)​
​​​​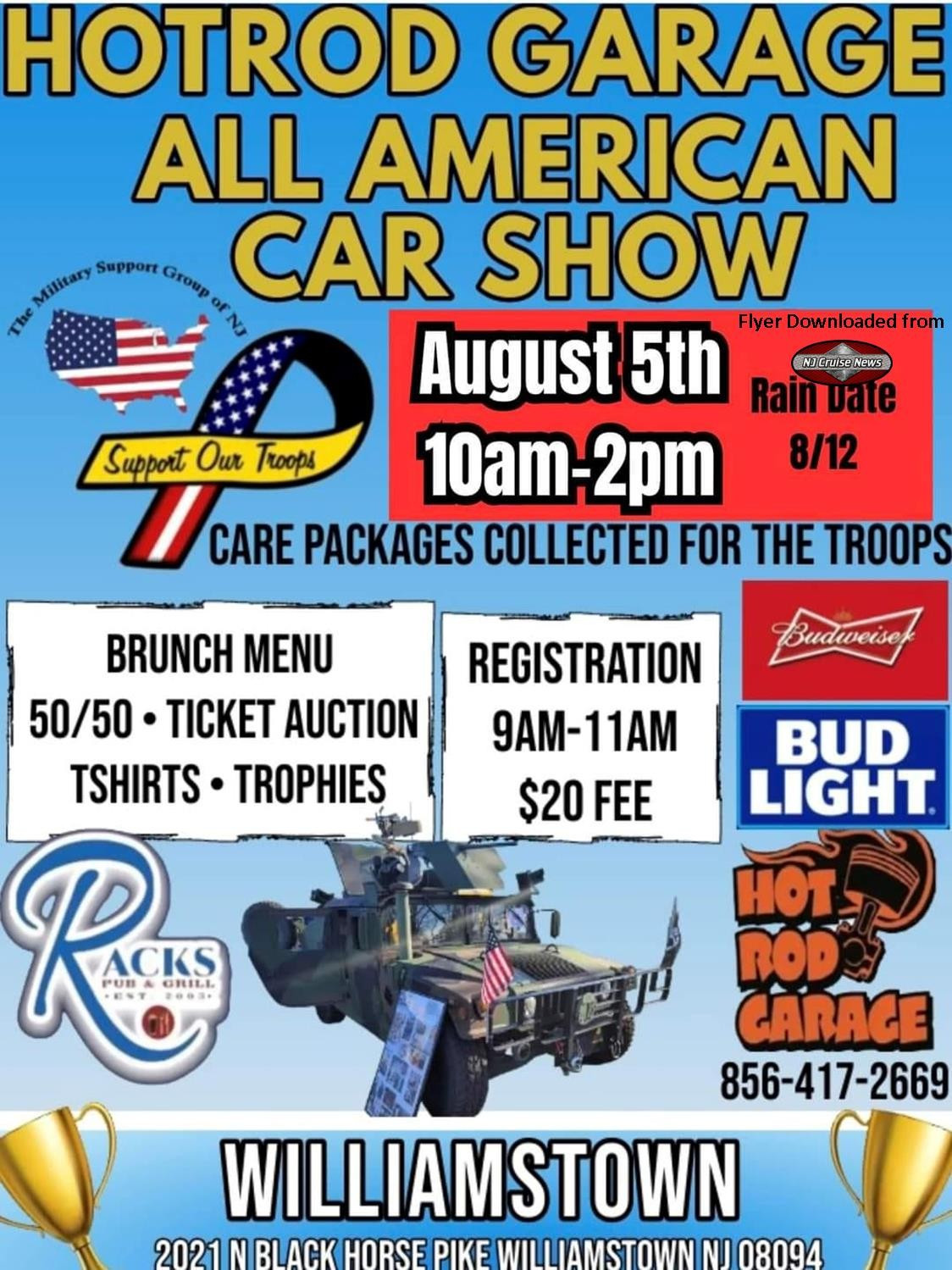 August 12
1st Annual Gas Guzzlers at Deptford Soccer 2023 Car Show​
Saturday, Aug 12th, 2023
9 am - 3 pm
Rain Date: Aug. 13​

Deptford Soccer Complex
1002 Cattell Rd., Deptford, ​ NJ​​

Reg: $20
Info: Bill (267) 909-1755​
(Gloucester County)​
​​​​
August 6
Hot Rod Garage Veterans Car Show

Sunday, Aug 6th, 2023
10 am - 2 pm

Racks Pub & Grill
2021 Black Horse Pike
Williamstown, NJ​​
Reg: $20
Info: (856) ​417-2669

(Gloucester County)​
​​​​
September 1
Glassboro Car Show & Food Truck Festival
Friday, Sept. 1st, 2023
5 pm - 9 pm​
Rain or Shine​
Downtown Glassboro
Rowan Blvd., Glassboro, NJ​​
Reg: $25
Info: (856) 881-0500

(Gloucester County)​
​​​​
September 2
City of Woodbury Car Show
Saturday, Sept. 2nd, 2023
9 am - 2 pm

South Broad Street
Woodbury, NJ
Reg: $20
Info: (856) 845-1300

(Gloucester County)​
​​​​
September 16
West Deptford Family Fun Day
All American Car Show​
Saturday, Sept. 16th, 2023
1:00 pm - 4:30 pm
RiverWinds Community Center
1000 Riverwinds Drive
West Deptford​​​, NJ​
Reg: $20​
Info: Linda (609) 206-9765

(Gloucester County)​
​​​​
September 17
Hot Rod Garage
​Autism Awareness Car Show
Sunday, Sept. 17, 2023
10 am - 2 pm

Rain Date: Sept. 24
Racks Pub & Grill
2021 N. Black Horse Pike, Williamstown​ , NJ​​
Reg: $20
Info: (​856) 417-2669
(Gloucester County)​
​​​​
September 30
Westville Fall Festival Car Show
Saturday, Sept. 30th, 2023
10 am - 2 pm
Downtown Westville NJ
Enter ONLY at Rt. 47 & Duncan Ave.​​
Info: Chuck (856) 904-4843 (text or call) or Tom (856) 524-2588 (call)
Reg: $20 cash only​​

(Gloucester County)​
​​​​
October 7
South Jersey Camaro Car Club
​All American Car Show​
Saturday, October 7th, 2023
10 am - 2 pm
Home Depot
Route 41, Deptford​, NJ
Reg: $10

(Gloucester County)​
​​​​
September 16
Martin's Plaza 1st Annual Car Show
Saturday, Sept. 16th, 2023
11 am - 3:00 pm
Rain Date: Sept. 17
Evergreen Antiques and More
429 S. Evergreen Ave. Woodbury, NJ
Info: (856) 205-3075

(Gloucester County)​
​​​​
September 30
Delsea Renaissance Crusader Classic Car Show
Saturday, Sept. 30th, 2023
8 am - 2:30 pm​
Delsea Regional High School
242 Fries Mill Rd., Franklinville​​​, NJ​
Reg: $20 DOS

(Gloucester County)​
​​​​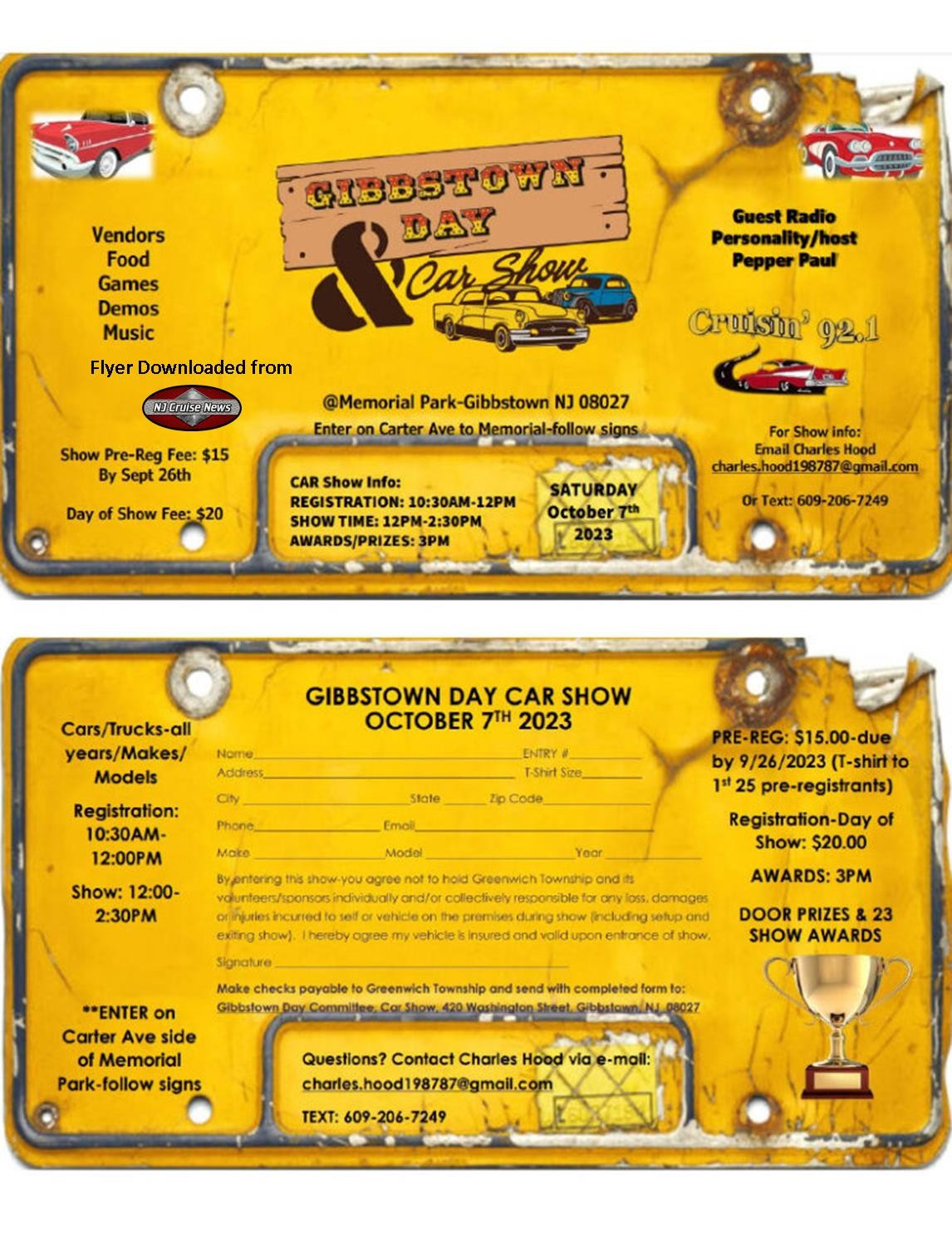 October 7
Gibbstown Day & Car Show​
Saturday, October 7th, 2023
12 pm - 2:30 pm
Registration 10:30 am - 12 pm
Memorial Park
Enter on Carter Ave. to Memorial
Gibbstown​​, NJ​
Pre-Reg: $15/DOS $20
Info: (609) 206-7249

(Gloucester County)​
​​​​
September 23
Franklin Township Community Day Car Show
Saturday, Sept. 23rd, 2023

Noon - 3 pm
Janvier Elementary School
1532 Pennsylvania Ave.
Franklinville, NJ​
Reg: $10 ($5 with a non-perishable food item)​

(Gloucester County)​
​​​​
September 30
Friends of Clementon Food Pantry
Car Show/Food Drive​
Saturday, Sept. 30th, 2023
10 am - 2 pm​
Rain Date: Oct. 1
Clementon Park​
144 Berlin Rd., Clementon, NJ
Reg: $10 and non-perishable food donation

(Camden County)​
​​​​
October 7
Project Refit's Fireteam: South Jersey Caravan
Sunday, October 7th, 2023
Show up at 10 am
MasterCraft
136 Hurfville CrossKeys Rd.
Sewell​​, NJ​
Entry: $20​

(Gloucester County)​
​​​​