© a super cool and creative website

NJ Cruise News is not Responsible for any changes in Date, Time, or Change of location. Please contact your local Cruise.


Due to COVID-19, all dates are tentative. Please contact event organizers prior to attending.
Join NJ Cruise News and Rock N Roll Garage "Hot Rod" Mike, along with co-host Cathi, in the garage on Thursday evenings from 9:00 pm to 10:00 pm for some garage talk and rocking music.
June 17




Califon's All MOPAR Show




Saturday, June 17th, 2023


9 am - 2 pm
Rain Date: June 18​
Califon Island Park
130 Bank St., Califon​, NJ​
Pre-Reg: $15/DOS $20Con


(Hunterdon County)​
​​​​
June 24




NJJP Invasion


Saturday, June 24th, 2023
3:00 pm - 10:00 pm​
6:30 Game
Trenton Thunder Ballpark
​1 Thunder Rd., Trenton​, NJ​


Limited to 250 Jeeps

on


(Mercer County)​
​​​​
June 25




Victory Bar & Grill Car Show




Sunday Night, June 25th, 2023


4pm - 8 pm
Victory Bar & Grill
795 NJ Route 73, Berlin​​, NJ​
Reg: $10Con


(Camden County)​
​​​​
June 18
Coffee and Chrome Car Show
Sunday, June 18th, 2023
11:00 am - 3:00 pm​
Shoppes at Dragon Village
97 Trench Road, Bridgeton, NJ​
(Cumberland County)​
​​​​
June 4
51st Annual
All American Car Show​
Sunday, June 4th, 2023
9:00 am - 2:00 pm​
Registration 8 am - 10:30 am​
Whiskey Lounge
403 Higgins Ave., Brielle​, ​NJ​
Reg: $25
Info: (609) 410-9902
(Monmouth County)​
​​​​
June 11




3rd Annual Gallaway and Crane Funeral Home Car Show




Sunday, June 11th, 2023


10 am - 2 pm
Rain Date: June 18​
Gallaway and Crane
101 S Finley Ave, Basking Ridge​​, NJ​
Entry Fee: $20
Info: Mike (201) 486-8765​Entry


(Somerset County)​
​​​​
June 10
Mays Landing Campground
Car, Truck & Motorcycle Show​
Saturday, June 10th, 2023
11:00 am - 4:00 pm​
Mays Landing Campground
1079 12th Ave., Mays Landing, ​NJ​
Reg: $10​ (Reg 9am - 11am​)
Info: (732) 600-4389​
(Atlantic County)​
​​​​
June 24




Pre-War at Historic Walnford




Saturday, June 24th, 2023


10 am - 2 pm
Stock or modified pre-war vehicle
Historic Walnford
62 Walnford Rd., Upper Freehold​​, NJ​


No Entry Fee; No Judging

on


(Monmouth County)​
​​​​
June 11
Sand Dollars from RHYS
​Charity Car Show

Sunday, June 11th, 2023
9 am - 3 pm​
Rain Date: Sunday, July 23rd​

Sweetwater Marina & Riverdeck
2780 7th Ave., Sweetwater​, ​NJ
Reg: $20.00
(Atlantic County)​
​​​​
June 11


2nd Annual Summer Roundup
Classic & Modern Ford Mustang & Muscle Car Charity Show


Sunday, June 11th, 2023


9 am - 3 pm
Rain Date: June 25th​
All American Ford of Old Bridge
3698 US 9, Old Bridge, NJ​
Pre-reg: $21/DOS $25
Info: Roy (347) 988-0184Entry


(Middlesex County)​
​​​​
June 17
Cruise for a Cause Car and Motorcycle Show

Saturday, June 17th, 2023
11 am - 4 pm​

Moonshiners Bar and Grill
2301 NJ-50, Mays Landing​​, ​NJ
$25 Donation per person includes food and entry at the gate; kids 15 and under are free
(Atlantic County)​
​​​​
June 18
Knights of Columbus Father's Day Car Show & Country Breakfast
Sunday, June 18th, 2023
8 am - 12 pm
Knights of Columbus Shane's Castle 7463, 157 Oak St.
Waterford Works, NJ​

Breakfast $10 Adults/$8 Children 12 and under
(Camden County)​
​​​​
June 17
Tri-County Fair Classic & Custom Car Show

Saturday, June 17th, 2023
2 pm - 6 pm​

Christ Church
140 Green Pond Rd, Rockaway​​​, ​NJ
Pre-reg: $10/DOS $15
(Morris County)​
​​​​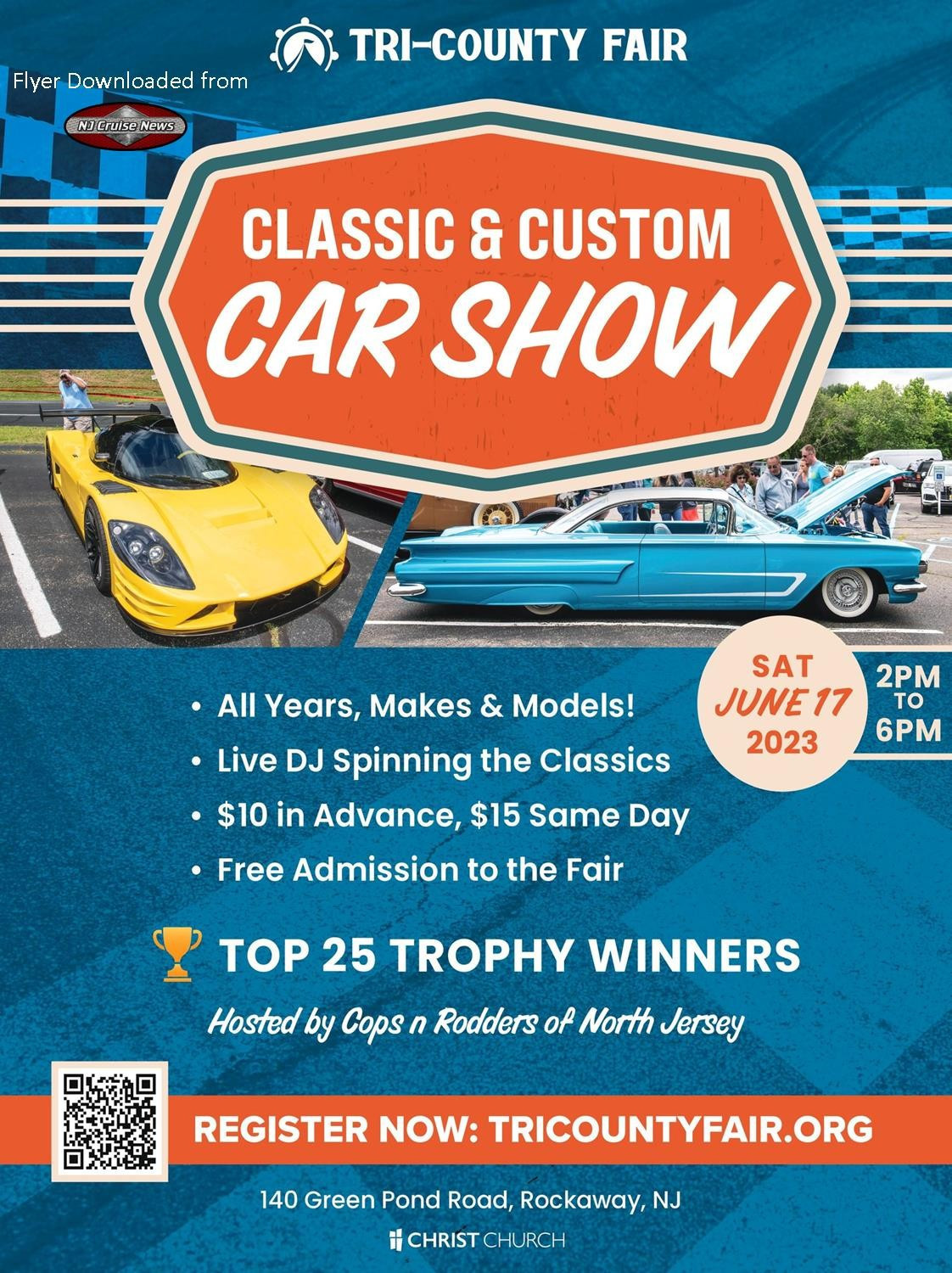 June 4
The Hamilton Honda Show​
Sunday, June 4th, 2023
9:00 am - 2:00 pm​
Rain Date: June 11​
Hamilton Honda
655 US Hwy 130, Hamilton​, ​NJ​
Entry: $15
Info: (609) 310-5261
(Mercer County)​
​​​​
June 10
3rd Annual Burning Rubber Car & Bike Show​
Saturday, June 10th, 2023
2 pm - 6:00 pm​
Rain Date: June 11​
Alloway Twp Muni/Senior Ctr
Alloway Twp School Complex
45 South Greenwich St., Alloway​​, ​NJ​
Pre-Reg: $15/DOS $20
​Info: (609) 202-1954
(Salem County)​
​​​​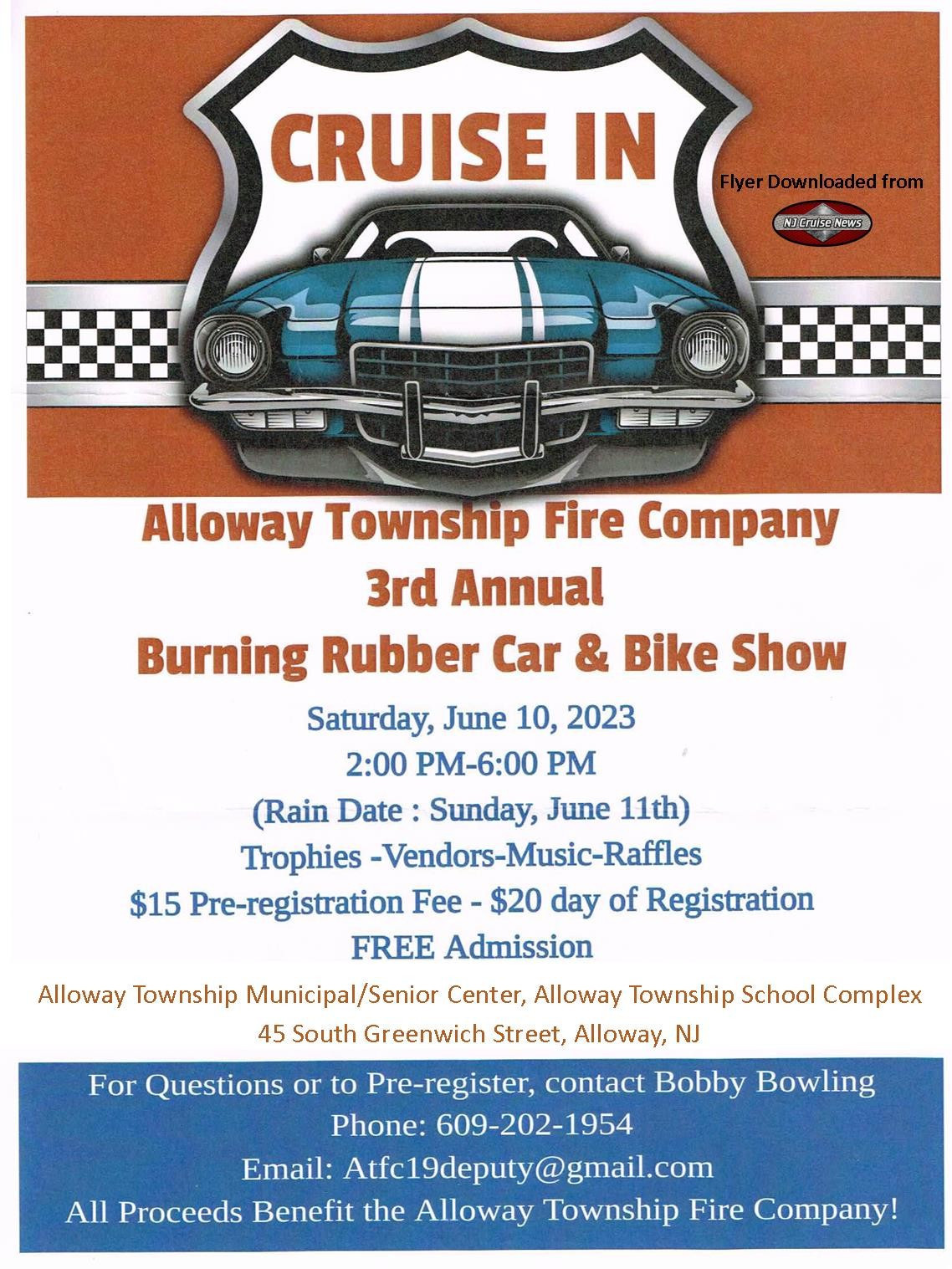 June 3
Prince of Peace
​6th Annual Car & Truck Show​
Saturday 3rd, 2023
10:00 am - 3:00 pm​

Rain Date: June 10, ​NJ​
Prince of Peace Lutheran Church
434 Aldrich Rd., Howell, NJ​​
Pre-Reg: $12/DOS $15
Info: (732) 804-3052
(Monmouth County)​
​​​​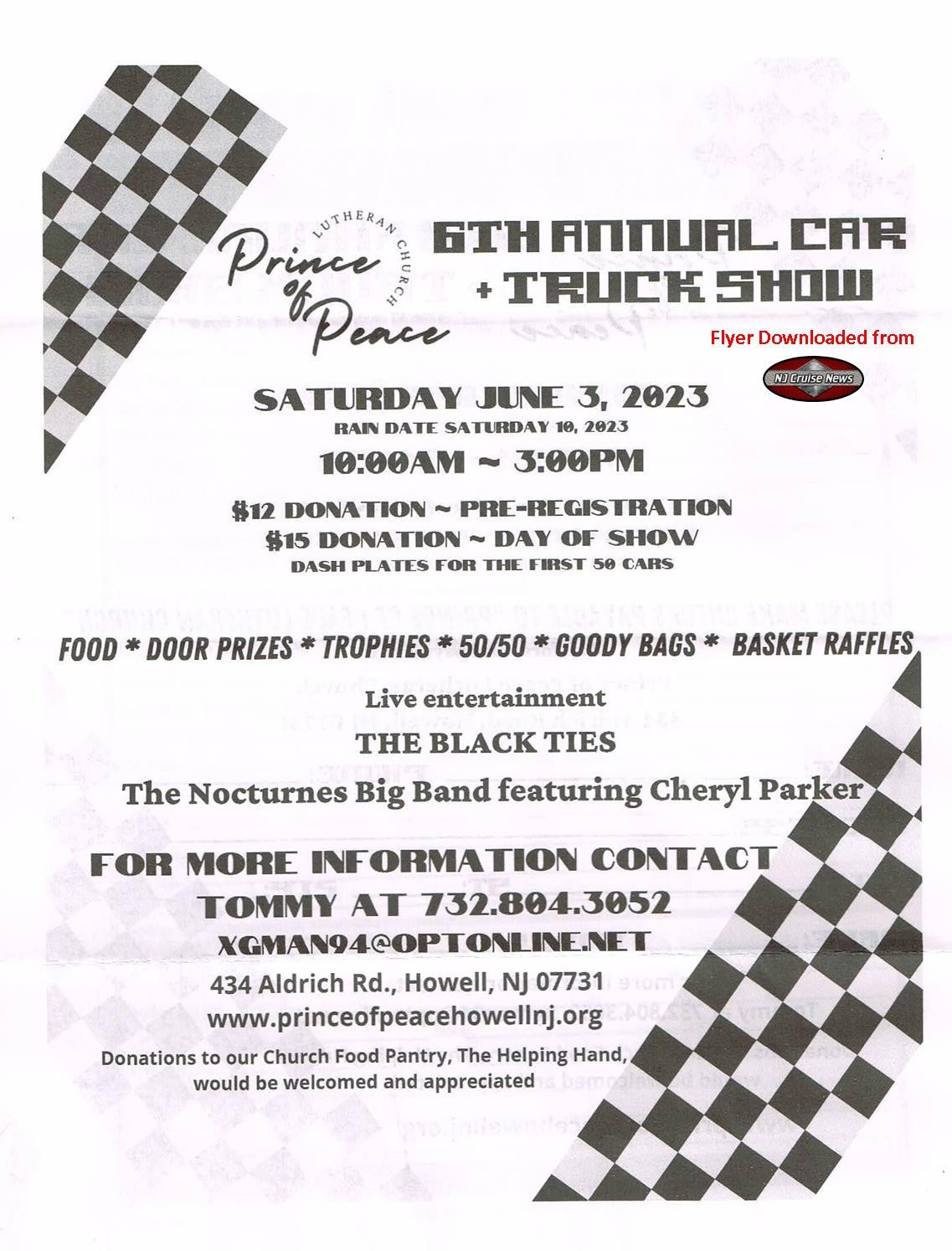 June 10
North Star Athletic Club Summer Car Show
Saturday, June 10th, 2023
10:00 am - 2:00 pm​
Registration begins @ 9 am​
North Star Athletic Club
95 North St., Madison​, ​NJ​
Reg: $20 at gate (no saving spots)

(Morris County)​
​​​​
June 11
Spring Round Up
​All-Ford Car Show
Sunday, June 11th, 2023
9:00 am - 2:00 pm​
Registration 9 am - 11 am
Performance Ford
906 Route 10 West, Randolph​, ​NJ​
Pre-Reg: $16/DOS $20
Info: (973) 927-6700​

(Morris County)​
​​​​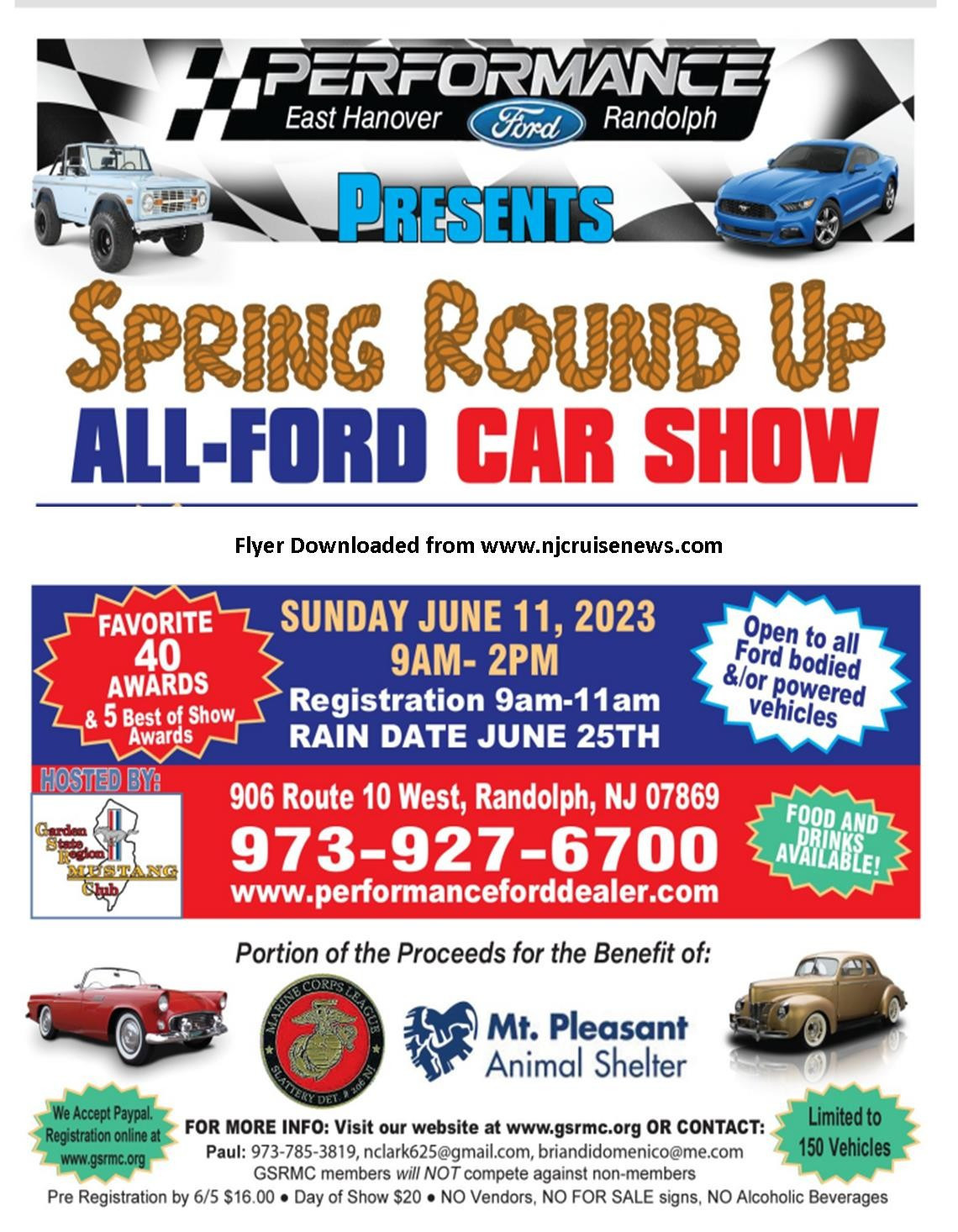 June 25


Tri-County Cruisers
​30th Annual Car Show


Sunday, June 25th, 2023


9 am - 4 pm
Rain Date: July 9
Wayne Town Hall
475 Valley Rd., Wayne​​​, NJ​


Pre-Reg: $15/DOS $20

n


(Passaic County)​
​​​​
June 11




Nanticoke-Lenni Lanape Tribal Nation PowWow Car Show




Sunday, June 11th, 2023


Registration: 10 am - 12 pm
Trophy Presentation: 3 pm​
Salem County Fairgrounds
735 Harding Hwy, Woodstown​, NJ​
Entry: $12.00
Info: Harry (856) 451-2231ry


(Salem County)​
​​​​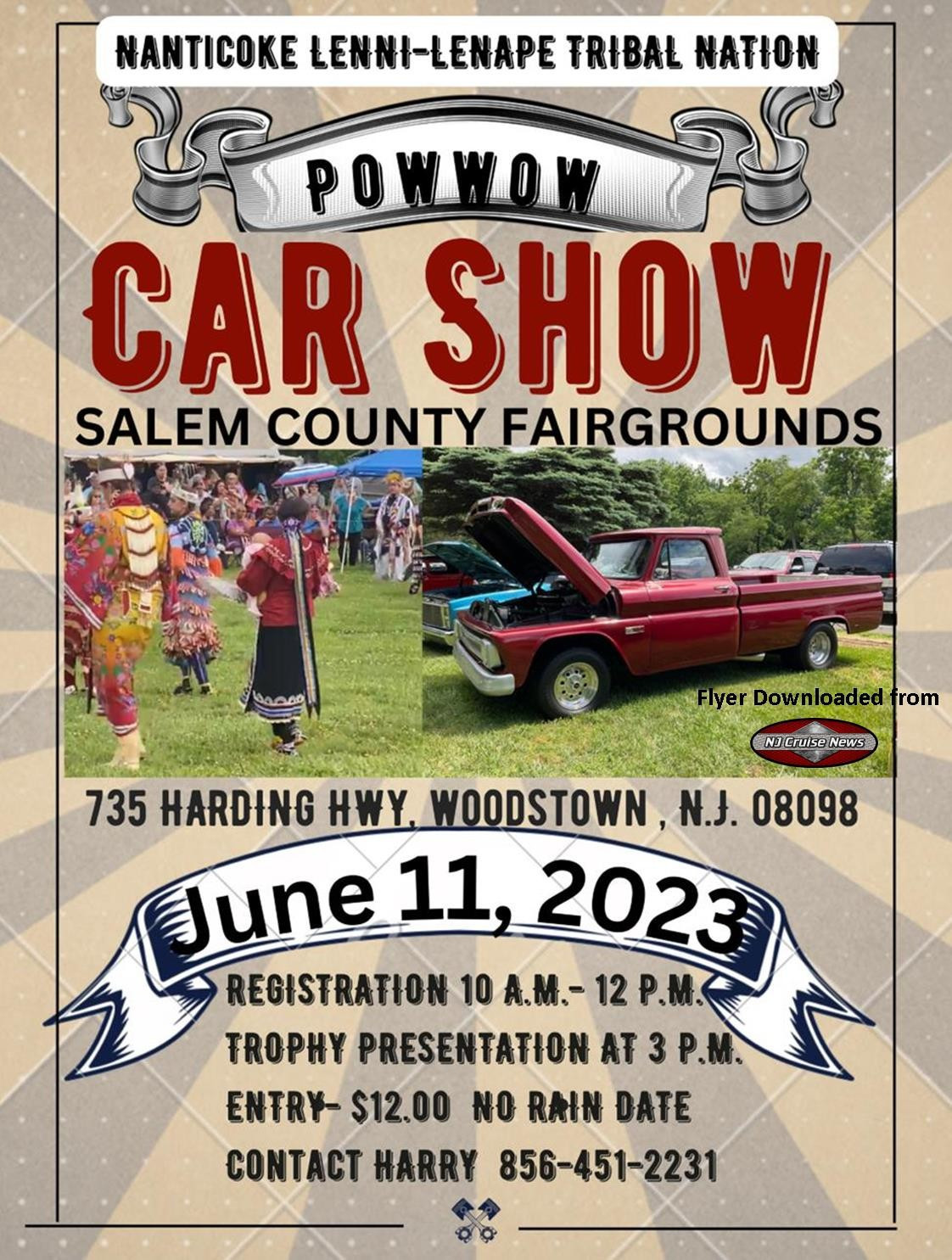 June 4
Waldwick Community Alliance 15th Annual Car Show​
Sunday, June 4th, 2023
9:30 am - 3:00 pm​
Rain Date: June 11​
Waldwick Railroad Station
4 Hewson Ave, Waldwick​​, ​NJ​
Pre-Reg: $15/DOS $20
Info: (201) 447-4635
(Bergen County)​
​​​​
June 11
12th Annual PBA Local 399
Car, Truck, & Motorycle​ Show​
Sunday, June 11th, 2023
10 am -3 pm​
Rain Date: June 25​
NV Demarest High School
150 Knickerbocker Rd., Demarest​​​, ​NJ​
Pre-Reg: $20/DOS $25
​Info: (201) 784-8116
(Bergen County)​
​​​​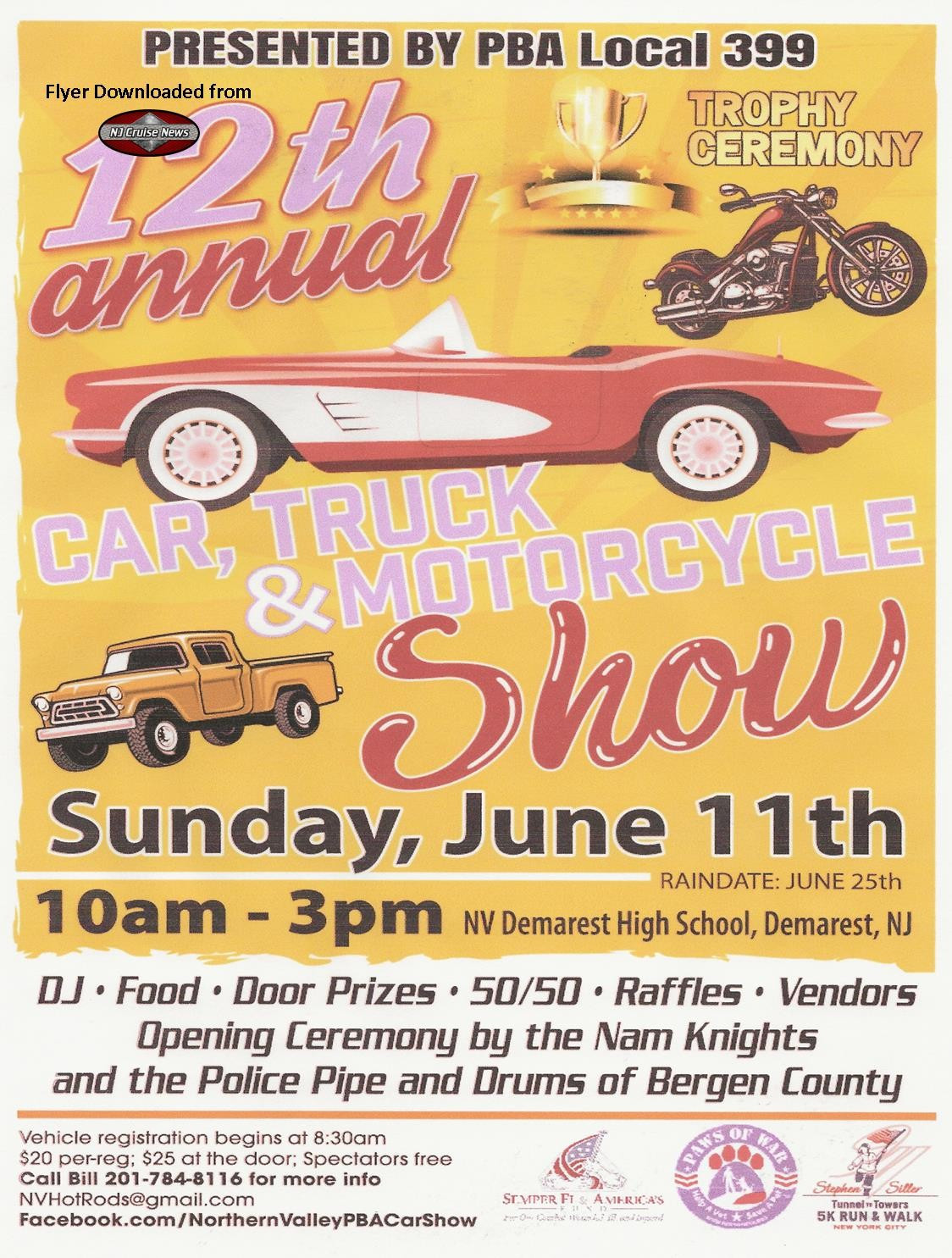 June 11
Lady Knights Softball Team
7th Annual Car/Bike/Truck/Radio Control Car​​ Show
Sunday, June 11th, 2023,
11 am - 4 pm
Rain Date: June 25​
JFK High School
61-127 Preakness Ave, Paterson​​, NJ​
Reg: Motorcycles $10/Cars,Trucks $20/Bicycles $10
Info: Joe (973) 896-2799
(Passaic County)​
​​​​
June 17




Atlantic Highlands Classic Car Show




Saturday, June 17th, 2023


10 am - 4 pm
Rain Date: June 18​
First Avenue
Atlantic Highlands​​, NJ​
Pre-reg: $15/DOS $20
Info: (908) ​692-4457
on

(Monmouth County)​
​​​​
June 10
Lacey Elks Lodge 3rd Annual
Custom Car, Truck, & Jeep​ Show​
Saturday 10th, 2023
9:00 am - 2:00 pm​

Rain Date: June 11​
Lacey Elks Lodge
900 Beach Blvd., Forked River​, NJ​​
Pre-Reg: $20/DOS $25
Info: (732) 579-7632
(Ocean County)​
​​​​
June 10
Arbor Hose Co. #1 Benefit Car Show​ and Swap Meet
Saturday, June 10th, 2023
10:00 am - 3:00 pm​
Arbor Hose Co. #1
​1780 West 7th St., Piscataway, ​NJ​
Reg: $20 DOS
Info: Karl (908) 500-1837
(Middlesex County)​
​​​​
June 25




Annual Classic and Custom Car Exhibit




Sunday, June 25th, 2023​


Car exhibit 5:00 pm
Rain Date: July 9​
No commercial vehicles at exhibit
Woolsey Park
203 Washington Crossing-Pennington Rd.​​
Titusville, NJ​n


(Mercer County)​
​​​​
June 24
The Fast and the Furriest
Car, Truck & Motorcycle Show​
Saturday, June 24th, 2023
9 am - 2 pm
Rain Date: June 25​
Veterans Park
489 Bill immerman Jr Way,
Bayville,​​ NJ​
Pre-reg: $15/DOS $20​
(Ocean County)​
​​​​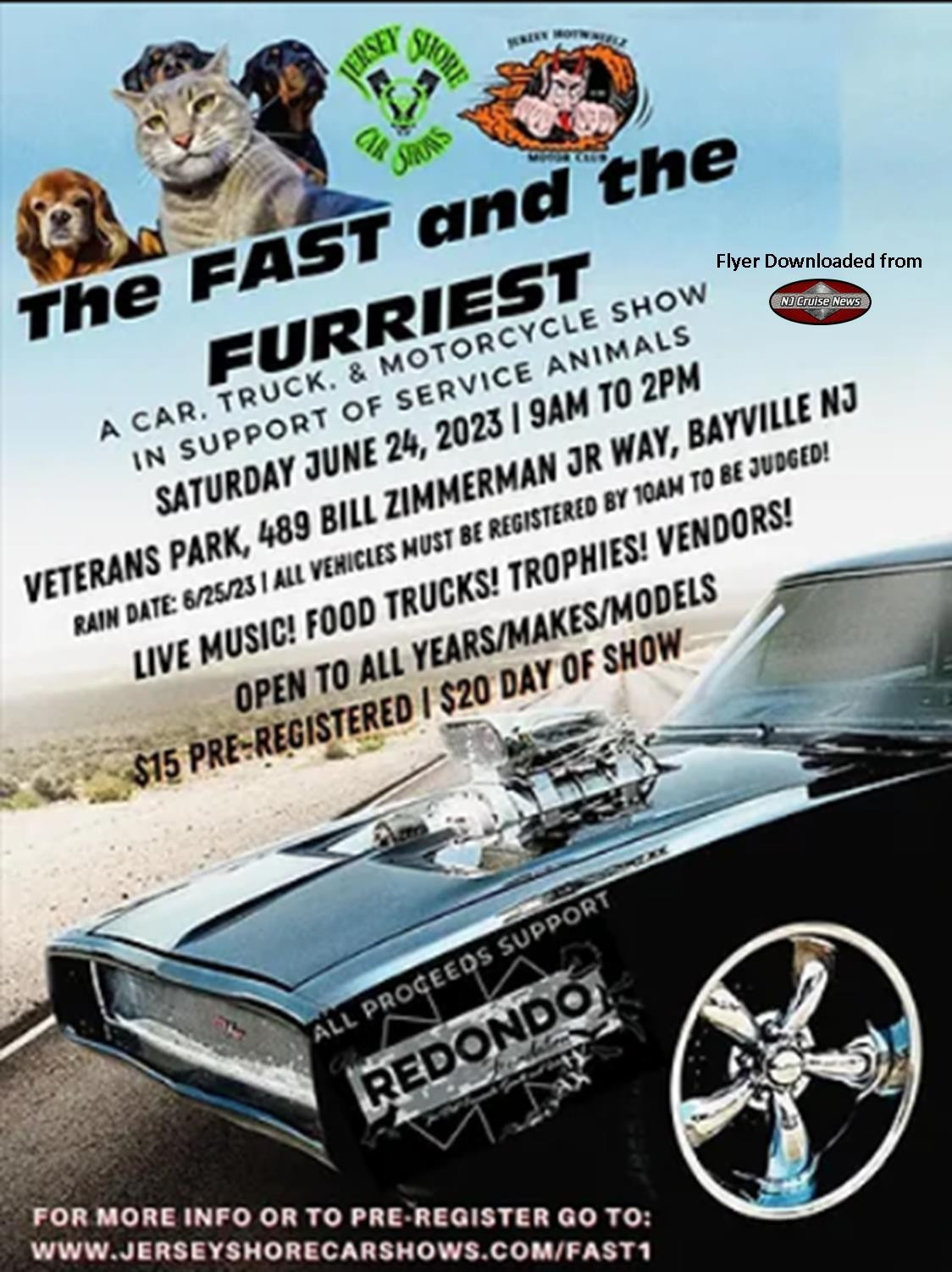 June 25




3rd Annual Paws Healing Heroes Show




Sunday, June 25th, 2023


10 am - 3 pm
Rain Date: July 2
Parke Bank​
601 Delsea Dr
Sewell​​​​, NJ​n


(Gloucester County)​
​​​​
June 10
31st Annual Cruise Down Memory Lane
Saturday 10th, 2023
5:00 pm - 9:00 pm​

Rain Date: June 11​
Landis Ave., Vineland​, NJ​​
Info: Marvin (856) 697-6306
(Cumberland County)​
​​​​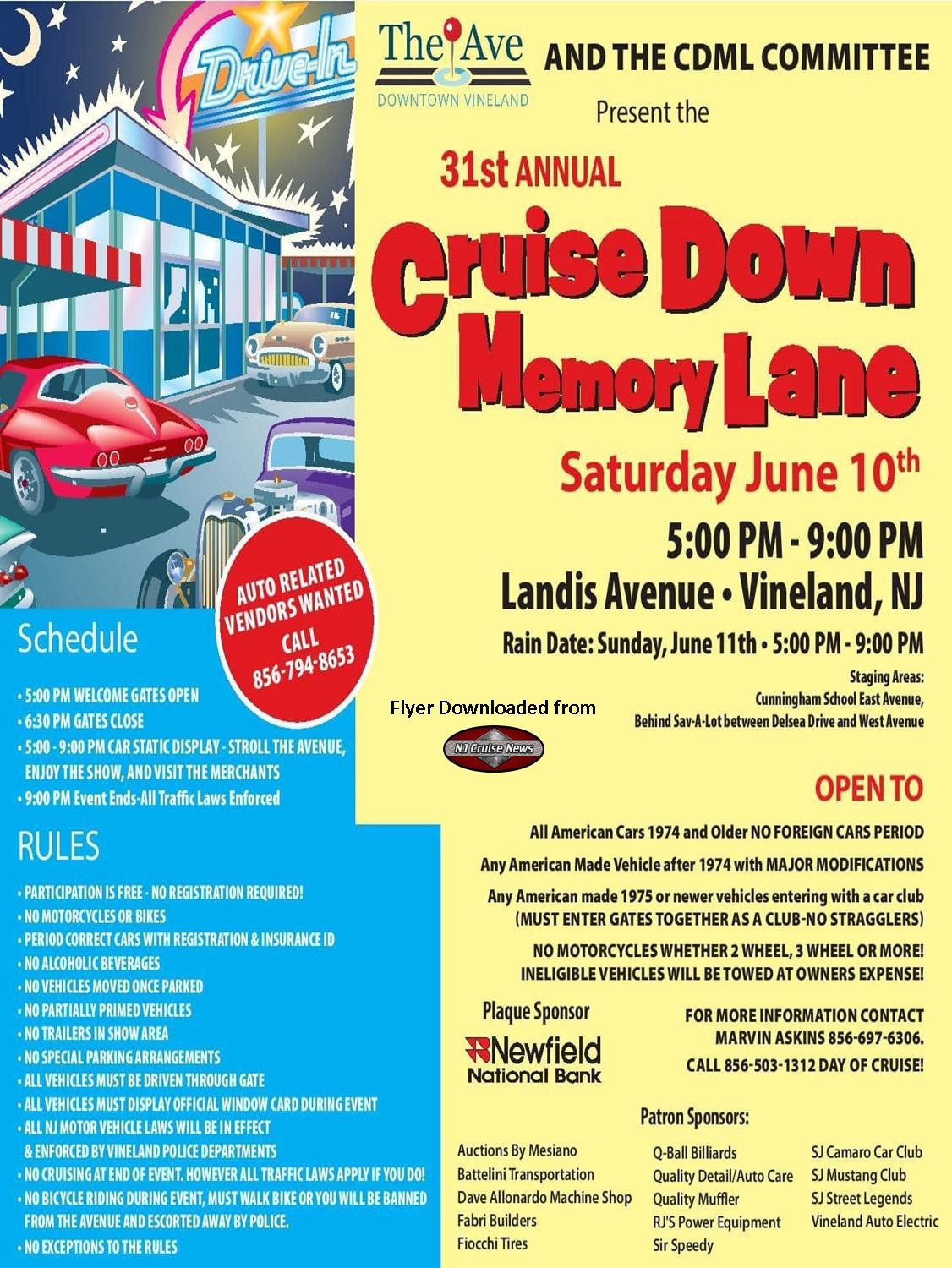 June 3
Wicked Rides Car Club Classic Car Show
Saturday, June 3rd, 2023
Doors Open @ 10 am
Sea Pirate Campground
148 Main St., West Creek​, ​NJ​
Car Reg: $20
$10 Donation to Enter​
Info: 1 (609) 296-7400​
(Ocean County)​
​​​​
June 3
Beach Bums 18th Annual Judged Corvette Show​
Saturday, June 3rd, 2023
Registration 8 am - 11 am
Rain Date: June 4​
Bay Village and Schooner's Wharf
Long Beach Island
​Beach Haven, NJ​
Pre-reg: $25/DOS $30​
Info: (609) 492-9144
(Ocean County)​
​​​​